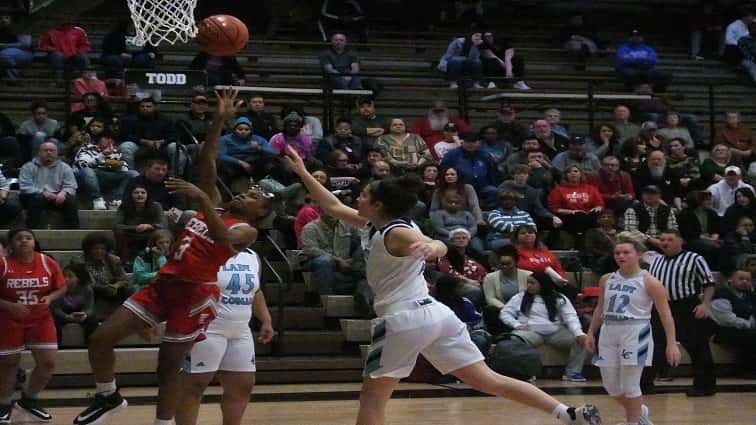 A difficult season came to an end for the Todd County Central girls' basketball team on Monday night with a 65-39 loss to top-seeded Logan County in the first round of the 13th District tournament.  The Lady Cougars move on to Thursday's championship game against the winner of Tuesday's matchup between hosts Russellville and Franklin-Simpson, while also punching their ticket to the 4th Region tournament.
The Lady Cougars used the 3-pointer to build an early lead, with Addie White knocking down two and Paige Vanzant beating the buzzer with her second to lead 22-8 after the first quarter.
Logan County cooled off from the outside in the second quarter, while Lucy Chester and 7th-grader Alexis Taylor both scored 6 to help the Lady Rebels outscore the Lady Cougars 12-9.  After closing to within 7 with 3:25 left in the half, Todd County trailed 31-20 at the break.
With a 9-0 run to start the second half, Logan County took a 20-point advantage before Chester connected on a 3-pointer for Todd County's first points of the half.  The Lady Cougars tacked on 9 more points to the cushion, and led 48-28 with a quarter to play.
Logan County continued to pull away over the final eight minutes, using 7 points from Peyton Vanzant to cruise to a 26-point victory.
Todd County          8    12     8    11 — 39
Logan County       22    9    17    17 — 65
Todd County (3-24) — Chester 15, Taylor 8, Leavell 6
Logan County (14-16) — Paige Vanzant 19, Nichols 13, White 12, Peyton Vanzant 11