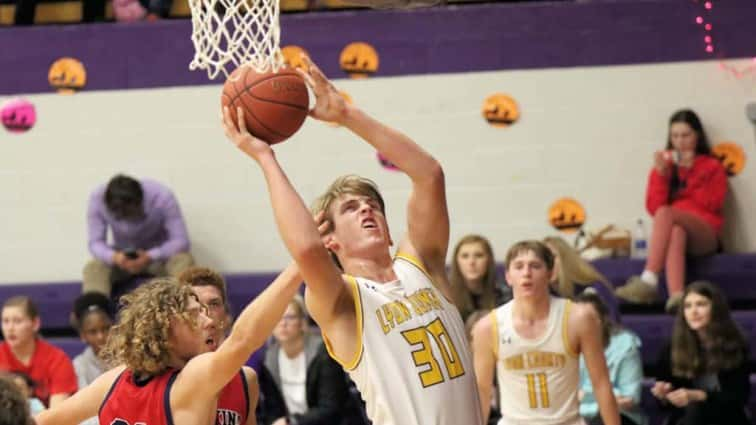 Lyon County is the top seed, the host, and the favorite to repeat as champions when the Fifth District Boys' Tournament begins Tuesday in Eddyville.
The Lyons (20-9) open play Tuesday at 6pm against No. 4 seed Livingston Central.  The Lyons beat the Cardinals 71-48 and 75-51 during the season and have won four straight against Livingston.
The Lyons are led by eighth grader Travis Perry, who leads the region in scoring at 26.8 points per game.  Sophomore Jackson Shoulders has added 15.7 points and 11.5 rebounds for a Lyon County team averaging 71.2 points a game.
Livingston Central (3-27) has struggled to score this year, topping 50 points just nine times.  Junior guard Max Downey leads the Cardinals in scoring at 14.3 points a game, while fellow junior John Barnes is scoring 9.2 a game.
The Cardinals are looking for their first district title in eight years, while Lyon County is looking for their fifth straight opening round win.
The 7:30 nightcap Tuesday has No. 2 seed Trigg County playing No. 3 seed Crittenden County.
A new coach at Trigg County didn't do anything to change their history of tanking in February.  The Wildcats lost five of their six February games and have lost 20 of their last 24 February games since their last district title in 2016.
Chad Burgett's squad is 11-17 and coming off one of their better outings of the season in a 71-49 win over Fort Campbell.  The Wildcats are led by eighth grade guards Jordan Miles (12.5 ppg.) and Jhaden Vaughn (9.5 ppg.).  Miles scored 30 in Trigg's overtime win over the Rockets on Jan. 27.  The x-factor for Trigg will be sophomore Khyran Vaughn who scored 23 points and grabbed 21 rebounds against Crittenden this season.
The Rockets (15-15) enter the post season winners of five of their last seven matchups.  The three-headed monster of Gabe Mott (16.2), Eric O'Leary (15.3), and Preston Turley (14.4) account for 76-percent of Crittenden's scoring.  They have also added Tyler Boone, who missed most of the season after suffering a football injury.  He has averaged 9.1 points and 5.6 rebounds since his return and could be the x-factor for the Rockets.
Tuesday's winners meet in Friday's 7pm championship game.
When Lyon County hosts the district tournament, you can expect them to be in the championship.  The last district title game that didn't feature Lyon County was 1979.  They are 4-4 in those title games at Jason White Gymnasium.
WKDZ 100.9 FM will carry every game of the district tournament that will also be streamed online at wkdzradio.com.