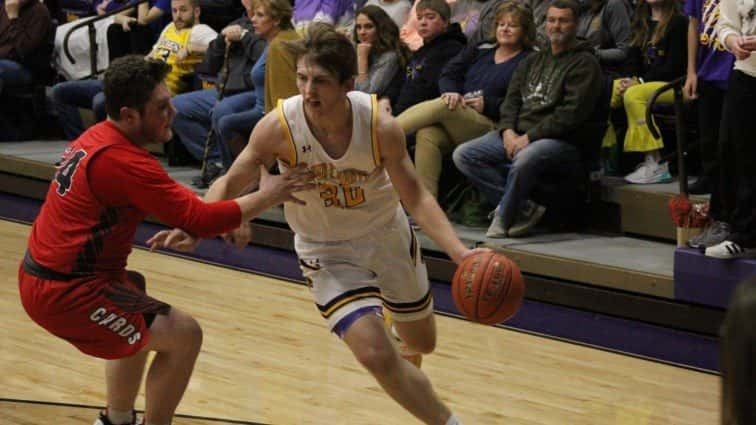 Lyon County got off to a fast start and held on to beat Livingston Central 101-76 to advance to the boys' 5th District championship game for the fifth straight year.
The 101 points marks the first time Lyon County has eclipsed the century mark in a district tournament game.
The Lyons came out of the gate firing as Travis Perry knocked down two 3-pointers in the first 42 seconds to prompt a Livingston timeout.  The Cardinals stayed within striking distance as John Barnes hit four 3-pointers to cut the deficit to 16-13.  Lyon answered with a 19-3 run to end the quarter for a 35-16 lead.  The Lyons were 11-of-21 from the field and hit seven 3-pointers in the quarter.
Barnes kept Livingston in the game in the second quarter.  He scored 22 of his 29 points in the first half.  However, the Lyon County duo of Travis Perry and Jackson Shoulders scored 45 of Lyon's 55 first half points.  A putback by Shoulders in the first half saw him reach the 1,000-point mark in his career.
Livingston got as close as 12 points early in the fourth quarter but untimely turnovers hurt their comeback attempt.  Lyon County scored 27 points off 25 Livingston turnovers in the contest.
Lyon County shot 42-percent from the field, including 16-of-37 behind the arc.  They also knocked down 21-of-25 free throws.  Livingston Central shot 44-percent from the floor, including 11-of-24 from 3-point range.
Shoulders led Lyon County with 32 points and 13 rebounds.  Perry hit six 3-pointers and finished with 30 points and five assists.  Gunnar Bingham (14) and Brady Shoulders (11) joined them in double figures for the Lyons.
Barnes scored 29 for Livingston Central, while Max Downey added 26 points and nine rebounds.  Johnathan Goodaker also reached double figures with 11 points.
Lyon County will play in Friday's district championship game.  The last time a district championship game was played on Lyon's home floor that did not feature them was 1979.
Livingston Central            16   17   24   19—76
Lyon County                       35   20   17   29—101
Livingston Central (3-28) – J. Barnes 29, Downey 26, Goodaker 11, D. Barnes 3, Wring 3, Johnson 2, Cossey 2
Lyon County (21-9) – J. Shoulders 32, Perry 30, Bingham 14, B. Shoulders 11, Reddick 6, Whalin 5, Hawkins 3