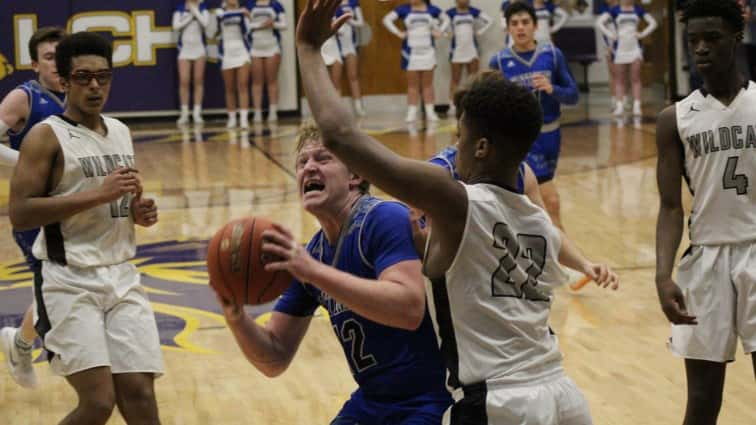 Preston Turley's bucket in the paint with 3.4 seconds left gave Crittenden County a 61-59 win over Trigg County in the 5th District semifinals Tuesday and kept the Wildcats out of the region tournament for the fourth straight season.
The Rockets will play Lyon County in Friday's district title game.  The Lyons beat Livingston Central 101-76 earlier in the evening.
The game featured 12 ties and six led changes, with three ties happening in the final 2:38 of the game.  Crittenden led 54-48 with 4:27 left, but Trigg responded with the next six points to tie the game at 54.  Trigg tied the game at 57 with 1:28 left and forged a 59-59 tie with 49 seconds left.
Crittenden County worked the clock to 27 seconds left and called a timeout.  With the clock winding down, Turley took the entry pass, spun right, and tossed the ball off the glass for the game-winner.
After two timeouts, Trigg County threw a full court pass that was fumbled out of bounds.
The game came down to free throws.  Crittenden County hit 17-of-22, while Trigg County was 11-of-21.
Trigg County led 30-27 at halftime, but Crittenden scored the first 12 points of the second half for a 39-30 lead.  Tyler Boone, who did not play against Trigg in the regular season due to injury, scored seven points during the run and proved to be the inside equalizer for the Rockets inside while Turley was on the bench saddled with foul trouble.  Boone finished the game with 15 points and 12 rebounds.
Trigg answered with a 9-0 run of their own to tie the game at 39.  Kion Thompson had five points during the run and finished with a game-high 23 points.  Jhaden Vaughn added nine points.
Gabe Mott led the Rockets with 17 points, and Eric O'Leary added 15 points.
Trigg County's season ends with a record of 11-19.  It's third straight season with 11 wins.  The Wildcats have now dropped 21 of their last 25 February games dating back to their last district title in 2016.
Crittenden County improved to 16-15 with the win and will advance to third straight district championship game for the first time since 1958.
Crittenden County           12   15   16   18—61
Trigg County                       9    21   13   16—59
Crittenden County (16-15) – Mott 17, O'Leary 15, Boone 15, Turley 6, Morgeson 3, Winders 2, M. Carlson 2, J. Carlson 1
Trigg County (11-19) – Thompson 23, J. Vaughn 9, Adams 8, Miles 7, K. Vaughn 7, Bridges 3, Terrell 2