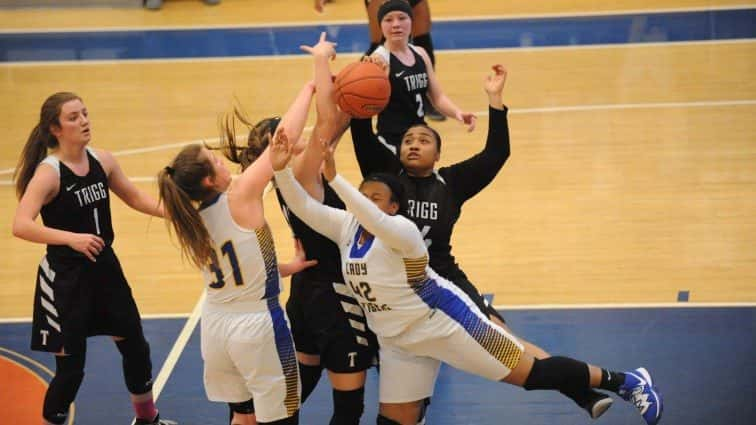 Webster County and Madisonville drew into the upper bracket of the girls' Second Region Tournament, while former Fifth District rivals Trigg County and Caldwell County will open play Tuesday in the opposite bracket.
Seventh District champion Madisonville will open the tournament Monday at 6pm against Fifth District runner-up Crittenden County.
Madisonville (27-1) carries a 10-game winning streak into the region tournament.  Their only loss came to Henderson County 66-52 on Jan. 18.  The Lady Maroons are 22-11 all-time in first round games and will be looking for their first region title since 1983.
Crittenden County (18-10) was the Fifth District runner-up.  They haven't won a first round region tourney game since winning the 2011 title.
Madisonville and Crittenden County did not meet during the regular season.  The last time they met was the first round of the 2016 region tourney.  Madisonville won that game 65-30.
In Monday's 7:30 game, Sixth District champion Webster County will play Christian County on the Lady Colonels' home floor.
Webster County (16-10) is the defending region runner-up and enter the tournament winners of 12 of their last 14 games.  The Lady Trojans are healthy with those two losses coming to Henderson County.  Webster returned the favor with a 58-51 win over the Lady Colonels in the district championship game.
Marissa Austin leads Webster County in scoring at 22.5 points per game.  Raigan Price is averaging 11 points per game since returning midway through the season after a bout with mono.
Webster County has won nine straight first round games in the region tourney.
Christian County (12-17) have won three straight first round games and have a 25-12 record all-time in the quarterfinals.
Webster County has ended Christian County's season the last three years.  They met during the regular season with the Lady Trojans picking up a 69-53 win on Feb. 18.
On Tuesday, former Fifth District rivals Trigg County and Caldwell County meet at 6pm.
Trigg County (24-8) is in the region tournament in consecutive years for the first time in over two decades.  Their only region tournament win came in 1990.
The Lady Wildcats are on pace to give up the fewest points in school history (41.0).  That has allowed them to post a 12-4 record this year in games decided by single digits.
Trigg County has four players averaging nine points or more led by freshman Olivia Noffsinger (10.5 ppg.).
Caldwell County (16-14) finished as runner-up in the Seventh District.  Their last region tourney win came in the 2014 quarterfinals.
Trigg County last met Caldwell County in the region tournament in 2009 which was a Lady Tiger win.  Trigg and Caldwell split their regular season games with each team winning on their home floor.  The last time Trigg beat Caldwell twice in a season was 1990.
Hopkinsville (16-15) had lost four of five games entering the postseason before winning their third district title in five years.  Hoptown is 11-21 in first round games.
Henderson County (19-7) is the defending region champion and have won six of the last seven region titles.  The Lady Colonels are 30-5 all-time in first round games and 66-20 in tournament history.
Hoptown got pounded by Henderson County 67-31 on Jan. 28.  Their last region tourney matchup was a 66-53 Henderson County win in the 2017 semifinals.
The semifinals will be Friday, March 6 with the championship Saturday March 7 at 6pm.