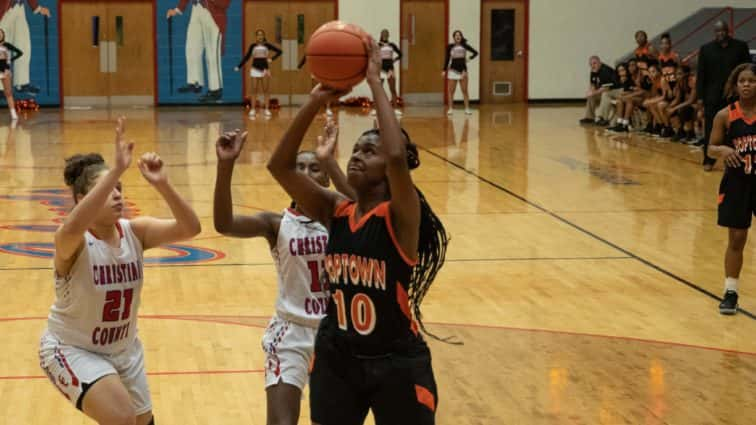 The 2019-2020 basketball season saw the Hopkinsville Lady Tigers pick up their first 8th District championship since 2017. And, if the Lady Tigers can develop some more consistency in their outside shooting, they figure to be the favorites to repeat in the district, and possibly be a dark horse contender in the 2nd Region during the 2020-2021 season.
The Lady Tigers finished the 2019-2020 season at 15-16. They knocked off Christian County in the 8th District title game, before falling to eventual region champion Henderson County in their 2nd Region tournament opener.
The Lady Tigers graduate two seniors from this year's team, with only JaKiyah Hinton seeing significant playing time during the season. Hinton played in 23 of Hopkinsville's 31 games. The Lady Tigers handled the teams they were supposed to beat, but shooting and ball handling issues caused them problems against the more elite competition on their schedule.
Hopkinsville shot only 37.8 percent overall from the field, and just 27 percent from behind the 3-point line. They also struggled at the free throw line, knocking down just 57.7 percent of their shots. If the Lady Tigers can elevate those numbers in 2020-2021, they could be a significantly more dangerous team to play.
Hopkinsville returns their top four leading scorers from this year's team. Donisha Flowers (13.9ppg), Lakayla Samuel (12.1 ppg), Shaterrea Bellamy (8.5 ppg), and Jakayla Epps (7.5 ppg) all return for the Lady Tigers. Experience will also not be in short supply, as Hopkinsville returns nine players that saw action in at least 15 games.
Flowers and Samuel were also the team's top two rebounders. The Lady Tigers were strong on the boards, pulling down nearly 37 rebounds per contest.
The Lady Tigers will again be quick and athletic, playing pressure defense from the time an opponent gets off the bus. Hopkinsville is one of the best teams in the region at back-tipping the ball after it appears a ball handler has gotten by the pressure.
How much the Lady Tigers improve in 2020-2021 appears, at this point, to lay firmly in improving their shooting and getting better with their ball security. If both of those happen, keep your eye out on the Lady Tigers in the season yet to come.