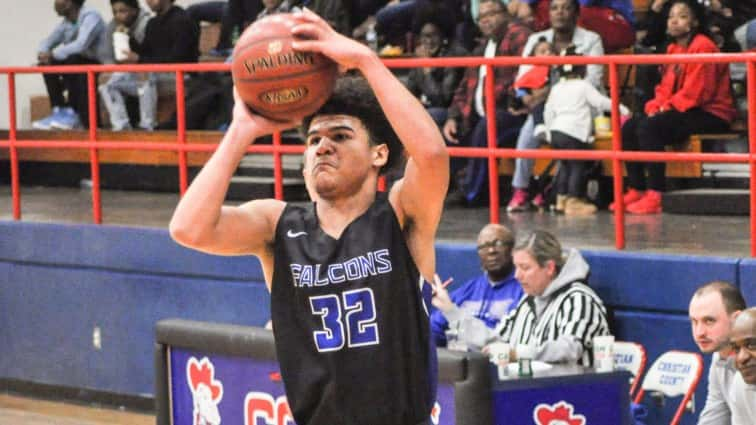 With the decade of high school basketball coming to an end in March, here is a look at the Fort Campbell boys' basketball All-Decade Team comprised of players that played for the Falcons from 2010-2020.
FIRST FIVE
Mike Tatum (2010-15) – Tatum is one of the rare Falcons to be on the Fort Campbell roster for five seasons.  He was second on the team in scoring his junior season at 12.7 points a game and knocked down a team-high 47 three-pointers.  In his senior season, Tatum led the Falcons at 13.8 points a game.  He signed with Elizabethtown Community and Technical College after high school.
Kyle Bryant (2011-13) – Bryant is the last Fort Campbell player to be named All-Region.  He averaged 14.3 points and five rebounds during the 2012-13 season in addition to earning All-District honors.  Bryant's ability to get to the basket made him a dangerous player for the Falcons.
Cameron Johnson (2015-19) – Johnson just missed the 1,000-mark for his Falcon career.  He averaged 13 points a game as a junior and 15 points as a senior in nailing down All-District honors.
Kevin Moon (2014-17) – Moon led the Falcons in scoring as a junior at 11 points a game while playing both the point guard and shooting guard position.  He put up similar numbers as a senior and again led the Falcons in scoring.
Cameron Pratt (2018-20) – Pratt turned on his game midway through his junior season and led the Falcons in scoring at 16 points a game as a senior.  Pratt hit 69 three-pointers, which was the most for a Falcon player in over a decade.
SECOND FIVE
Jorden Clark (2017-18) – Clark put up monster numbers in his only season at Fort Campbell before transferring out.  He averaged 17 points and 10 rebounds and was snubbed for a spot on the All-Region Team despite his numbers.
Isaiah Washington (2011-14) – Washington averaged nine points and seven rebounds for the Falcons during his junior campaign in 2012-13.  He knocked down 53-percent of his shots from the field as a starter that season.
Anil Cole-John (2011-14) – Cole-John had his best season as a senior, averaging just under 10 points a game and a team-high nine rebounds.
Christian Duff (2015-17) – Duff averaged seven points a game for the Falcons as a junior and hit just under 11 a game as a senior.  He led the team in 3-pointers made as a senior.
Trevon Thompson (2010-13) – Thompson averaged just over nine points and seven rebounds in both his junior and senior seasons for the Falcons and proved to be a solid inside player.  He shot a team-leading 64-percent from the field as a senior.
D.J. Davis (2010) – Davis nearly averaged a double-double in his senior season for the Falcons. He had a huge night against Trigg County in the season opener with 27 points and 16 rebounds.