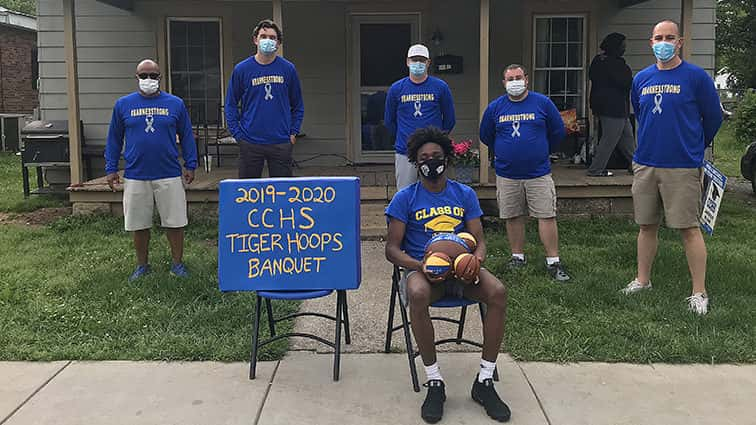 The Caldwell County boys' basketball team held a traveling awards night ceremony this week, with head coach Daniel Kukahiko and the Tiger coaching staff delivering awards to the homes of each player.
Varsity award winners included Jamarius Blaine, Tiger Award, Mr. Defense and Assists Leader (2.2 assistst per game) Adarius Riley, Leading Scorer (13.1 points a game); Cole Smiley, Rebounds Leader (6.3 rebounds a game); Jude East, Highest Field Goal Percentage (63 percent); Tripp Branch, Highest 3-Point Field Goal Percentage (40 percent); T.J. Ray, Highest Free Throw Percentage (86 percent); and Cayden Fraliex, Charges Drawn Leader (13).
Junior varsity award winners included Jabrion Spikes, Tiger Award, Highest Free Throw Percentage (76 percent), Leading Scorer (17.9 points a game); and Giovante Riley, Mr. Defense.
Freshman award winners included Zavy Bumphus, Tiger Award; Hunter Newsom, Mr. Defense; JaSean Riley, Leading Scorer (11.2 points a game); and Carter Whittington, HIghest Free Throw Percentage (72 percent).
The Tiger varsity basketball team went 16-16 this past season, falling to Lyon County in the first round of the 2nd Region tournament.
Check out some photos from the Tigers' basketball awards night.