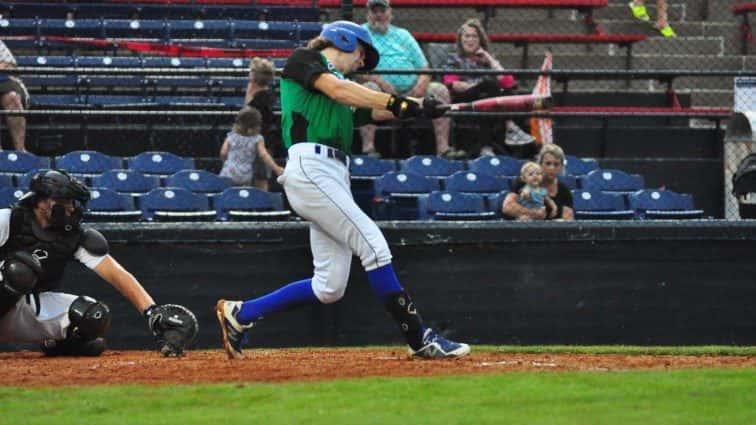 The Kentucky Prospects Summer Baseball League kicked off play Monday at Brooks Stadium as the historic locale hosted its first baseball action in nearly a year.
The league is made up of mostly college players who played at First and Second Region high schools.
Jase Felker (Caldwell County/Rend Lake CC) sparked a fast start for the National Team who held on for a 13-12 win in the league opener.
Felker homered on the first pitch of the game and finished with three hits and two RBIs in the contest.
The Nationals scored eight runs in the second inning to inflate their lead to 9-1. Jacob Pennington (Oakland, TN/Murray State) tripled home a pair of runs ahead of a Jonah Brannon (Calloway County/Murray State) RBI double. Felker added an RBI single, and Trey Hutchison (Union County/Murray State) followed with a two-run double.
Down 11-3, the Americans mounted a comeback with nine runs in the next two innings to forge a 12-12 tie.  Eric Riffe (Paducah Tilghman/Western Kentucky) had a two-run single, and Rook Ellington (McCracken County/State College of Florida) followed with a two-run double to bring the Americans to within two runs.
A couple of bases-loaded walks allowed the Americans to tie the game in the fifth inning.
Felker scored the eventual game-winning run when he singled in the sixth inning, stole second, advanced to third on a wild pitch, and scored when Hutchison reached on an error.
Hutchison drove in three runs and scored twice for the Nationals, while Pennington had three hits and two RBIs.
Ellington had two hits and three RBIs for the Americans, who only had five hits in the contest but were aided by 16 walks issued by National pitchers.
Bryce Thomas (Caldwell County/Northern Kentucky) had two RBIs and scored a run for the Americans, while Cameron Head (Livingston Central/Southeastern Illinois) scored twice and had an RBI.
Gabe East (Caldwell County/Rend Lake) got the start for the Nationals, allowing three earned runs and striking out two in an inning plus of work.
The Prospect League will play again Thursday at 6:30 at Brooks Stadium and will continue the Monday-Thursday schedule for the next six weeks.