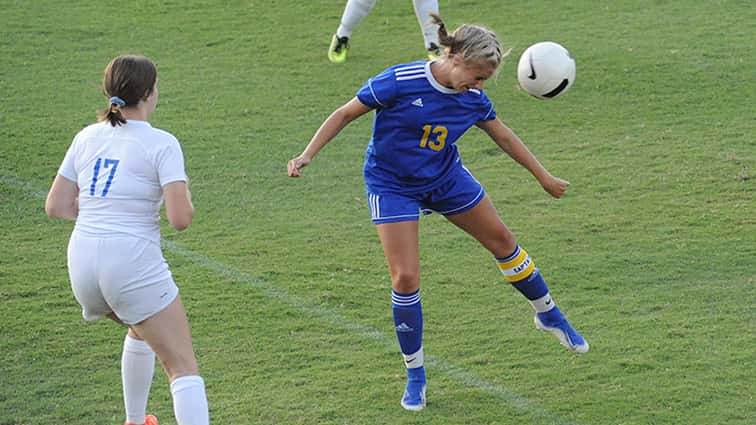 When Rhett Miller took over as Caldwell County girls' soccer coach with only weeks to prepare the Lady Tigers for the upcoming 2018 season, they were rebuilding after a trip to the 2nd-Region title game the previous year.  Fast forward two years, and a talented senior class has optimism high for another deep postseason run.
The Lady Tigers were not far off in 2019, finishing 12-8-2 with all the losses suffered against teams with winning records.  Two defeats came at the hands of eventual 2nd-Region champions Henderson County, with a couple more against Madisonville-North Hopkins, winners of nineteen-straight matches.  Also, three of the setbacks were by a one-goal margin, to go along with draws against regional runners-up UHA and regional semifinalists Hopkinsville.
Leading the deep group of seniors is a four-year starter and three-time all-region selection, Kelsie Adams.  Adams anchors a backline that allowed only 35 goals last season, notching six shutouts.  Goalkeeper Karsyn Parker also returns after allowing just over a goal and a half per game as a junior.
Audrey Wynn and All-District and All-Region selection Maggie Ginn must be replaced on the backline, with Hannah Young taking on a defensive role after posting 9 goals and 5 assists as a junior.  Junior Hadley Hall and sophomore Avery Ritchey will complete the Lady Tigers' defensive unit.
The graduation of All-District forward Lucy Goffinet leaves a hole in the attack after she found the net a team-leading 17 times to go with 6 assists.  Coach Miller says Kaylee McEnaney will take more of a playmaking role after 13 goals and a team-high 16 assists as a junior, with senior Morgan McDaniels and sophomore Laken White looking to get on the end of McEnaney's passes.  McEnaney and White were both All-District selections last season after providing 12 goals and 6 assists, respectively.
Linking the defense and attack, junior Kendall Boyd and senior Abby Hagan return in the middle of the field after combining for 9 goals and 8 assists, joined by senior Madison Smith.
The Lady Tigers open the season against former 4th-District foes Trigg County, before a brutal three-game road stretch against Hopkinsville, Hopkins County Central, and Madisonville-North Hopkins.  Caldwell took last year's regular-season meeting with the Lady Storm 3-1, before needing a penalty kick shootout to prevail in the district semifinals.  They were outscored 10-1 over two matches with the Lady Maroons, including a 4-1 loss in the district title game.  An October 5th trip to UHA may be a preview of a late region-tourney matchup, with an opportunity to avenge a 2-1 loss to Graves County on the road to close the regular season.
Coach Miller talks about the upcoming 2020 season.