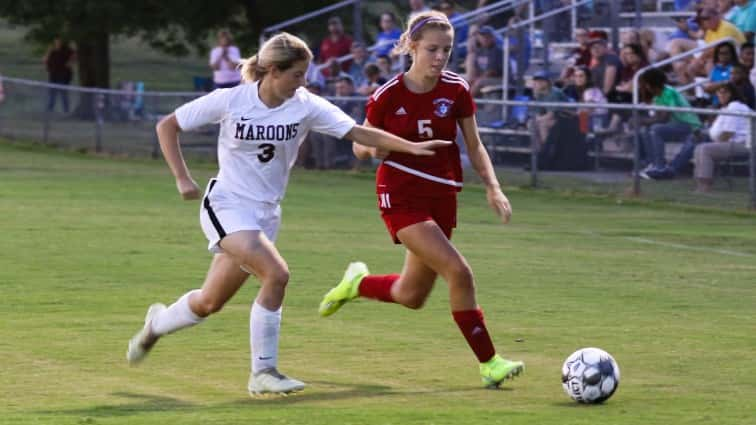 After a 2019 season in which the Christian County girls' soccer team underachieved on the way to a 4-15-1 record, much of the core returns under new coach Hannah Ambrose.
While the Lady Colonels were young last season, on paper they looked to be a much more formidable side than the one that went winless for eleven-straight matches and failed to advance out of the first round of the 8th-District tournament.  They allowed a region-high 113 goals while scoring the second-fewest with 31, culminating in the worst season of former coach Shannon East's three years in charge.
Gone from that team are goalkeeper Eniya McGee, defender Brianna Igo, and midfielder Kylee Knight, but almost all of the offensive production returns for the Lady Colonels.  Last season's leading goal-scorer, junior Autumn Bell, is back after notching 8 goals and a pair of assists.  Senior Alexus Hendrix will join Bell up top after being tied for second on the team in scoring with 6 goals to go with 3 assists.
Junior midfielder Emma Fleming was an All-Region selection after a 3 goal, 5 assist season, returning to the midfield alongside junior Lilly Larkins.  Larkins' was tied for second on the team in both goals and assists with 6 and 4, while Jasmine Larkins can play in the midfield or defense after a goal and 3 assists as a freshman.
Senior Fiona Knepper makes a move from goalkeeper to the backline, while Coach Ambrose is excited about a trio of young players to help out defensively.  Sophomore Addison Platt should bolster the Lady Colonel defense, with freshman Cayleigh Clay able to play in the back or the midfield.  Ambrose also likes what she has seen from freshman goalkeeper Lainey Grace.
Christian County opens the season on September 7 at Logan County, and it doesn't get any easier with a matchup with Graves County at the Lady Donley Classic at Madisonville-North Hopkins on Saturday.  District play begins with a showdown with Hopkinsville on September 15, before they close the district slate at University Heights Academy on September 30.
Coach Ambrose spoke recently about the upcoming season.