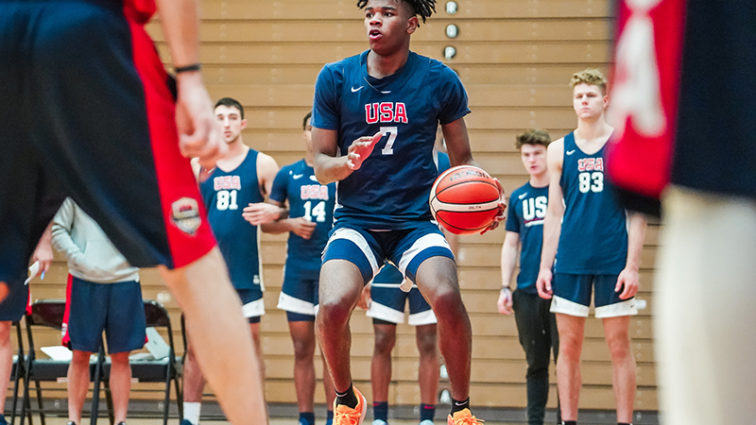 Rivals.com basketball recruiting analyst David Sisk isn't sure who the next commit might be for coach John Calipari but he certainly has great insights on what could happen. That's why I always like going to him when I have questions fans ask me that I have no way of accurately answering.
Kentucky is recruiting senior guards Jaden Hardy of Las Vegas and Hunter Sallis of Omaha along with junior guard Skyy Clark of Nashville, a player many expect to reclassify to the 2021 recruiting class.
So who does he think is the most likely to commit to Kentucky?
"All three are fluid situations and have moved in different directions over the past few weeks," Sisk said. "Hardy looked like a strong Kentucky lean for a long time, but when that happens and you go without committing that usually isn't a good sign. Now it looks like UCLA may be the favorite, but he could commit to them and then decide on the G-League.
"Roy Williams has made a strong push for Skyy Clark and it looks like it is a dog fight between North Carolina and Kentucky.
"Sallis said he always wanted offers from Kentucky and Duke. Now he has one from the Wildcats, and it appears that this may be the recruitment that has the momentum going in the Big Blue's favor. But all three are far from done deals."
Hardy has seemed such a strong Kentucky lean. Remember last December when UK played two games in Vegas not only did Hardy come to a game, but Calipari's Cats practiced at his high school. Yet now it seems like the G-League could be the betting favorite for Hardy.
"My stance for the last eight or nine months has been that if he goes to college it would be Kentucky, but the greatest competitor is the G-League. Now it appears that UCLA may have knocked the Cats of the top perch of the college basketball hill," Sisk said.
"I think it is just one of those things where if you are the leader for a long time, and nothing happens there is a problem. I think it's that way in business or anything else. They say if you are running for president the last place you want to be six months before the primary is out front in the polls."
At one time it seemed like Kentucky would get at least two of the three. Sisk doubts that happens now.
"It looks like if the Hardy ship hasn't left the dock, the rope is being untied. It also looks like this might be one of those situations where Kentucky gets either Sallis or Clark, and North Carolina gets the other," he said.
—