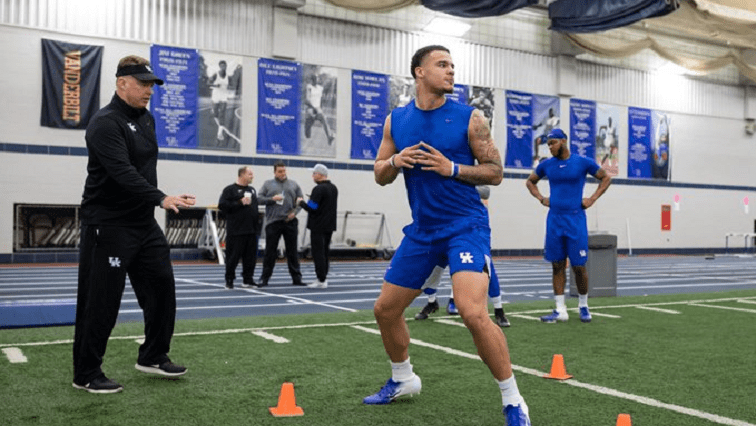 Kentucky coach Mark Stoops always seems to drop some news nuggets on his weekly radio show and did so again Monday night.
Here are a couple that obviously jumped out to me:
— Auburn transfer quarterback Joey Gatewood should find out this week if the NCAA has granted his waiver for eligibility this season. Stoops said UK getting answers from the NCAA and SEC this week and made it sound like he expects Gatewood to be eligible this year to back up starter Terry Wilson.
"It's a two-part process with the NCAA and the SEC because we're going from one SEC school to the other," Stoops said. "I feel good about that, but you never know till it's done.
"Hopefully we hear something this week. We have to move forward until we get that final waiver, so we'll see where that goes. I do anticipate getting an answer this week."
Either way Stoops said he had a "lot of options" at quarterback and players who can play what he calls winning football. However, UK won't have redshirt freshman Nik Scalzo. He injured his knee his high school senior season and then again last year at UK.
"Last year he was cleared, but he was coming off a knee injury. We're in a position where we have depth, and we want him to get healthy," Stoops said. "I want to give him some time to heal up, get healthy. The plan is to not play him this year."
— Senior walk-on Matt Ruffolo has won the starting placekicking job over sophomore Chance Poore.
Ruffolo was 4-for-5 on field goals last year, including a 50-yarder in a 24-20 win over Arkansas. He also made 18 of 20 extra point attempts. Poore hit five of nine field goals and 24 of 26 extra points last year.
"They're both kicking the ball really good, hitting it pretty consistently. Ruffolo won the job, he's earned that right," Stoops said on his show. "Chance will do the kickoffs, which will help us, but Ruff has been consistent.
"He had a career-long field goal during Saturday's scrimmage. It was about 52 or 53 yards, may have been 54, which was great to see."
Poore should more than adequately handle kickoff duties. He has a strong leg and is a player I still think is going to be a huge contributor before he leaves UK.
— Okay, I know it seems like every preseason we hear about how well UK tight ends have been playing and how much Stoops likes what he has seen from them. Well, Stoops mentioned again Monday night that he has a solid group of tight ends with Justin Rigg, Keaton Upshaw and Brenden Bates.
"Justin is just solid, he's been there. Great in-line tight end," Stoops said. "Keaton has unbelievable upside, he's a bit dinged up right now, but nothing major.
"Bates has really been the guy I've been really pleased with. He's another freshman that could have a big year, I'm really happy with him."