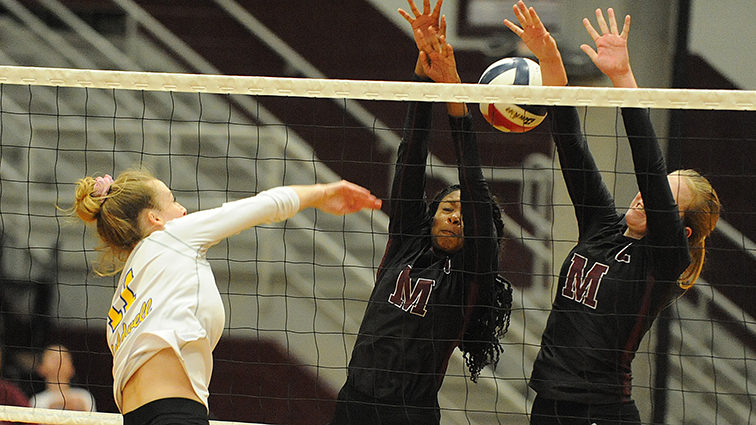 With a 4-0 start to the season that included wins over Henderson County and University Heights Academy, Madisonville-North Hopkins seemed poised to challenge Caldwell County at the top of the 2nd Region volleyball rankings.
But Caldwell would have none of that on Tuesday, taking a 3-0 decision in Madisonville that further cements the Lady Tigers' top ranking in the region.
Caldwell won by scores of 25-21, 25-17, 25-13 to continue its mastery over Madisonville.
The Lady Tigers have won 31 straight matches against the Lady Maroons. Caldwell leads the all-time series 33-5.
Olivia Mitchell had 25 kills and 16 digs to lead the Caldwell effort on Tuesday. Abby Griggs recorded 16 kills, a dig and a set assist.
Kendyll Prowell had 45 set assists while also adding three kills and seven digs. Mary Tays recorded three kills, 13 digs and two aces.
Riley Thomas added 13 digs while Adi Sullenger had five digs and a set assist for Caldwell.
Natalie Collier and Kaitlyn Orange each had five kills for Madisonville. Ellie Hughes added two kills.
Kendrea White had a kill and three blocks.
Alexis Fliehman had a team-high 20 digs while Orange added 17 digs and Amya King had 15.
King also had 12 assists.
Caldwell (2-1 overall, 1-0 district) bounced back from a 3-0 loss to 14th-ranked McCracken County on Saturday.
The Lady Tigers face another challenge on Thursday when they visit five-time defending regional champion Henderson County.
Madisonville (4-1, 0-1) next hosts Crittenden County on Monday.