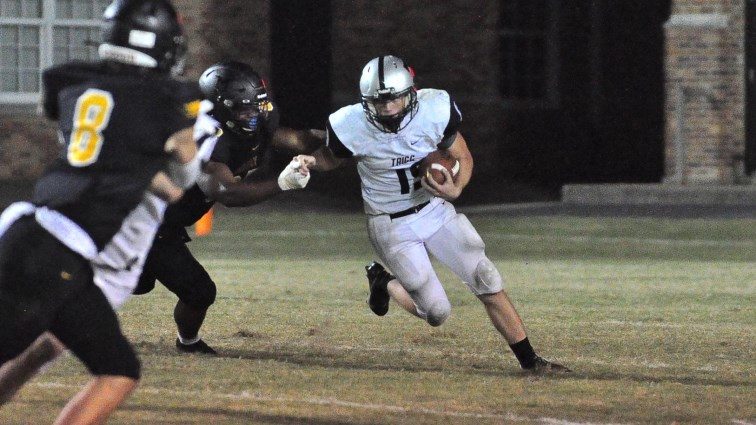 One week after putting a running clock on Ballard Memorial in a season-opening win, Trigg County was on the other side of coin Friday in a 41-6 loss at Murray.
Junior Rowdy Sokolowski ran for 113 yards and threw for 193 more, accounting for four of Murray's six touchdowns on the night.
The Tigers continually won the field position battle in the first half, punching across the game's first score with 7:47 left in the opening quarter when Sokolowski hit Charvelle McCallister for a 26-yard touchdown.
In the second quarter, Sokolowski connected with Dijon Miles for a swing pass down the right sideline.  Miles took the pass 32 yards to paydirt and put the Tigers ahead 14-0 with 7:11 remaining in the half.
Trigg County had trouble moving the football against a Murray defense that allowed minus 58 yards to Webster County in last week's opener.  The Wildcats managed just 13 yards on 13 first half carries.
Trigg had Murray pinned deep in their own territory late in the first half when Sokolowski hit McCallister on another swing pass.  After eluding a pair of tackles at the line of scrimmage, McCallister raced to the Trigg 9-yard line for a gain of 76 yards before he was knocked out of bounds.  On the next play, Sebastian Lawrence, Murray's 6-2, 275-pound lineman, ran it in for the final nine yards for a 20-0 Murray lead with 1:28 left before halftime.
Murray needed only 29 seconds to score in the second half as McCallister scored on a 37-yard run.  The Murray senior, who ran for 164 yards and three scores against Trigg County last year, totaled 99 yards on nine carries Friday.
Sokolowski added touchdown runs of 14 and 57 yards in the third quarter to close out Murray's scoring. He finished 8-of-16 passing and carried the football 10 times.
Trigg County managed 57 yards of offense in the first half and 189 for the game.  The Wildcats were outgained 414-189 despite running 23 more plays.
Sophomore Jacob Wease was 11-of-33 passing for 134 yards and threw his first interception of the year.  Trigg's lone score came on the game's final play when Wease completed an 18-yard scoring strike to Dakota Lockard.
Kelsey Parham led Trigg's running game with 27 yards on nine carries.  Dillion Skinner and Jhaden Vaughn each caught three passes.  Skinner had 47 yards, and Vaughn had 27.
Jaquellus Martin, who scored four touchdowns in Trigg County's opening week win, did not play Friday after having wisdom teeth pulled earlier in the week.
Friday's game was Trigg County's first at Ty Holland Stadium in a decade.  Trigg is now 9-19-1 in games played in Murray.  The Tigers have now won four straight against Trigg and lead the all-time series 38-18-1.
Murray [2-0] plays at Crittenden County next week, while Trigg County [1-1] travels to Paducah Tilghman for the district opener for both teams.