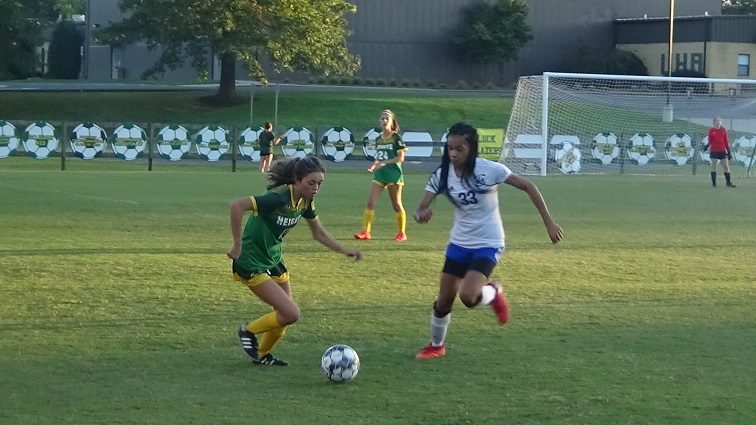 After a tight first twenty-five minutes that saw the host UHA girls' soccer team and visiting Christian County tied at 1-1 on Wednesday night, the Lady Blazers took over behind four goals from Kate Cansler to take an 8-2 victory over the Lady Colonels.
Grace Pape put the Lady Blazers in front just over seven minutes in, and the 1-0 score held until Autumn Bell jumped on a loose pass in the UHA defense and rolled it into the far side netting to pull the Lady Colonels even with fourteen minutes left in the half.
However, surrendering the tying goal seemed to focus the Lady Blazers, and they were back in front less than a minute later on Cansler's first goal of the night.  Cansler assisted on Pape's second strike, followed by another Cansler goal off an assist from Addi Fourqurean.  With a couple of minutes to play until the halftime break, Cansler finished off her hat trick for a 5-1 UHA advantage.
An own goal early in the second half stretched the Lady Blazer cushion to five, before Cansler added her final finish of the night off an assist from Audry Grise.  With just over ten minutes to play, Pape found the back of the net with a free-kick for an 8-1 score.  Christian County's Lilli Larkins scored the night's final goal with a couple of minutes left, intercepting a pass out of the back and rolling the ball home at the near post.
The 1-6-1 Lady Colonels will go on the road Thursday to face Union County.  UHA faces a daunting finish to the regular season, with games against Madisonville-North Hopkins, Hopkinsville, and Caldwell County, beginning with a rematch of last season's 2nd-Region semifinals with the Lady Maroons on Friday.