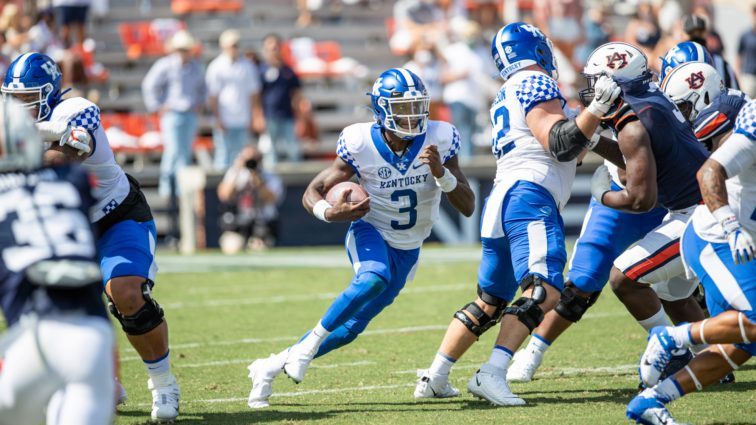 With former Auburn quarterback Joey Gatewood now eligible to play for the Wildcats is senior Terry Wilson still the best option at quarterback? Recently Saturday Down South writer Matt Hinton ranked Terry Wilson as the 10th best quarterback in the SEC after three games this season — two losses and one win by the Wildcats. But is that an accurate picture of how Wilson has performed this year?
Hinton wrote, "On Saturday, he accounted for just 123 yards in a lopsided UK win over Mississippi State in which the Wildcats as a team averaged a whopping 3.0 yards per play. That bumped his record to 13-5 as a starter and should tell you all you need to know about his ideal role on this team: The less he has to do, the better."
Seems like a pretty harsh indictment of the way Wilson has played through three games this season, but is it? A 10th place ranking only ahead of KJ Costello at MSU, Collin Hill at South Carolina, Jarrett Guarantano at Tennessee and Ken Seals at Vanderbilt is not exactly a ringing endorsement of the guy playing his last season for the Wildcats, but is it deserved?
Based on the numbers, it appears a 10th place ranking might be justified. And if it is, does that make Wilson the best option to lead UK's offense for the next seven regular season games?
Here's what the numbers say. In a ranking of passes completed by percentage Wilson is at 61.3 percent which ranks 12th in the SEC, behind everyone except Ken Seals at 0-3 Vanderbilt and Myles Brennan at 1-2 LSU.
In total passing yards Wilson ranks near the bottom of the SEC at No. 13 but that could be an indication of the type offense UK runs and not what type quarterback Terry Wilson is. This Kentucky offense is not designed to throw the ball that frequently and generally not that deep.
So as a quarterback Wilson is not going to put up huge passing numbers but in the run game he could put up huge numbers. So far this season in total rushing Wilson has 221 yards which is good enough to be the sixth best rusher in the SEC. Wilson, averaging 73.7 yards rushing per game, is the only quarterback in the Top 15 rushers in the SEC.
So it appears that, based on the passing numbers, Terry Wilson shouldn't be rated much higher than the 10th best quarterback in the SEC.
But it also seems that based on the rushing numbers, if Terry Wilson continues to run the ball the way he did in the Ole Miss game, he could still be a fit for this offense. But it's difficult to argue that a quarterback that completes 61 percent of his passes and creates only 154 yards passing per game should be the only option for leading this Kentucky team. With capable back-ups like Joey Gatewood and Beau Allen waiting in the wings for an opportunity to see what they can do I'm sure not going to argue against it.
UK offensive coordinator Eddie Gran always says to each new player coming in, "Make me play you." After some lackluster performances by the UK offense hopefully one of the two will, or Terry Wilson will right the ship, throw the ball less and run it more, and create a spark for this offense.
Either way I would be happy with more points on the board.
— Keith Peel