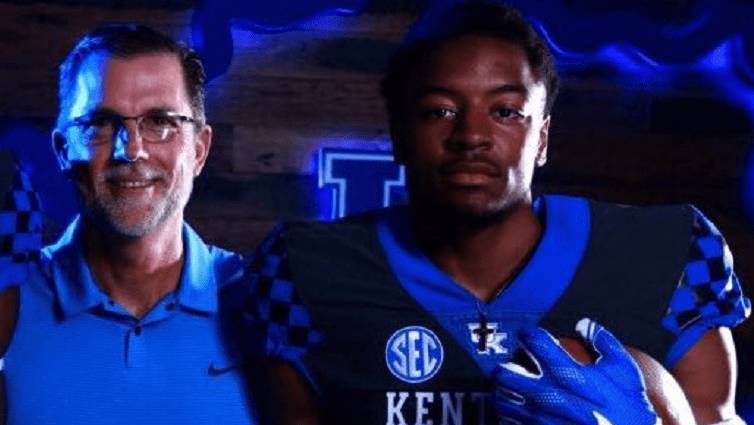 Tennessee coach Jeremy Pruitt says despite Kentucky's troubles running against Mississippi State last week that the Wildcats are one of the "best teams" in the SEC running the football.
"They do a nice job – very creative in the run game. They use their quarterback running the football. They have a stable of running backs and a bunch of guys running the ball well there. They have an experienced offensive line," said Pruitt.
"They're committed to running the football. They believe in their plan. They're a physical team that's disciplined. They play well together. It will be a tremendous challenge for us."
Okay, believe what part of that you want. Kentucky is committed to running the ball or should be after the lack of passing success so far this year. Kentucky coach Mark Stoops correctly credited Mississippi State for simply outplaying UK's offense at times last week.
"They do some different things and twist and put a little bit of doubt in your mind and there were certain plays where we wish we would have done it differently as far as the adjustments we make and how we block things. There were times when they beat us, there were times when we made some mistakes. So you put it all together and it wasn't very efficient," Stoops said.
But Stoops was also adamant that one key play came when A.J. Rose fumbled when the Cats had a chance to create separation and maybe change the way State had to play defense.
"That can't happen. We can't fumble the football away when you have an opportunity to start pulling away," Stoops said.
Well, actually it can. Rose, a senior, had lost four fumbles in the last seven games counting the final four games last year. That's a propensity to fumble that has to be troubling.
"It's concerning, there's no question. There's an urgency, and he knows that… It's gotta be zero," offensive coordinator Eddie Gran said Tuesday while also saying he was confident Rose could get it corrected.
Rose had eight carries for 22 yards with the one fumble against State. He had 117 yards on 22 carries against Ole Miss but not only did he fumble at the goal line, he also got caught on a 72-yard breakaway because he started celebrating too early. In the opening game at Auburn he had 10 carries for 33 yards.
That 172 yards on 40 carries for Rose, but take away the 72-yard scamper and it's 100 yards on 39 carries — about 2.5 yards per run. Then there are the two fumbles and one huge mental blunder that at times have been more than enough for Stoops to bury a player on the bench.
Backup running back Kavosiey Smoke is out again with a broken rib for Saturday's game at Tennessee. Rose seemed to bang up his shoulder against State and Chris Rodriguez, UK's other running back, is also not quite 100 percent.
That might lead to true freshman JuTahn McClain getting a lot of touches in Knoxville. He got his first carry late in the Mississippi State win and went for 17 yards.
"Kid runs really,really hard. Great vision. You saw the little burst," Gran said. "He has been coming on a bit like (Benny) Snell did. You pop on the film, make me play you … The kid's ready to go."
Remember it took UK a few games to give Snell a chance and he went on to become UK's all-time leading rusher. With the way the UK offense struggled last week, I say give McClain his chance, especially with Gran using the Snell-like comparison.