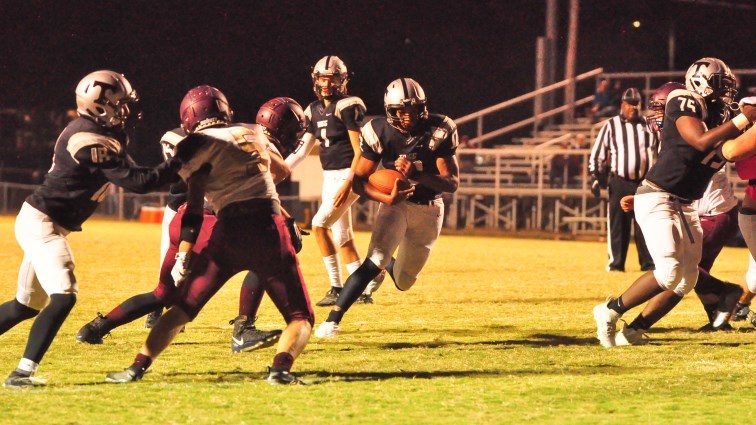 In a shootout that featured 97 points and 890 yards of offense, Trigg County proved to have a little more ammunition in beating Webster County 63-34 at Perdue Field.
The win snapped a four-game losing streak by the Wildcats and ended a brief two-game win streak by the Trojans.
Jaquellus Martin accounted for 305 yards of offense and scored four total touchdowns for the Wildcats.  He opened the scoring with a 59-yard run with 7:52 left in the opening quarter.
Webster quickly answered when Webster Daniel Yates turned the corner on a run play and raced 70 yards for the score.
Trigg regained the lead when Kendric Adams capped a nine-play drive with a three-yard run.
Webster again answered when Tanner Robertson crossed the goal line from two yards out with 1:33 left in the opening quarter to tie the game at 14-14.
The Wildcats then scored 21 unanswered points.  Martin scored on a 63-yard run on the first play of the second quarter. Jhaden Vaughn caught a 20-yard scoring pass from Jacob Wease, and Adams scored on an 18-yard run.
Down 35-14, Webster scored the final two touchdowns of the first half. Robertson added another two-yard run, and Livonte Dale caught a 20-yard scoring pass from Wilson.
Trigg broke the game open with 21 straight points in the third quarter. Martin scored on a 45-yard run and a 46-yard pass from Wease, who later added his first rushing touchdown of the season on a 1-yard run.
Wilson, who came into the game completing 68-percent of his passes, was 9-of-23 for 120 yards before he was pulled from the game in the third quarter.
Trigg County totaled 498 yards of offense in the game.  Martin had 186 yards on just seven carries and caught three passes for 119 yards.  Adams added 92 yards on 19 carries and scored three TDs.  Wease was 6-of-15 passing for 185 yards.
Keller Nichols was 9-for-9 on extra-point kicks for the Wildcats.
Webster County had 204 rushing yards and 188 passing yards for 392 total yards.
Trigg County has won 10 straight games against Webster County and leads the all-time series 21-4.
The Trojans [2-3] travel to Paducah Tilghman next Friday.  Trigg County [2-4] will play at Union County, who throttled Tilghman 49-7 Friday.