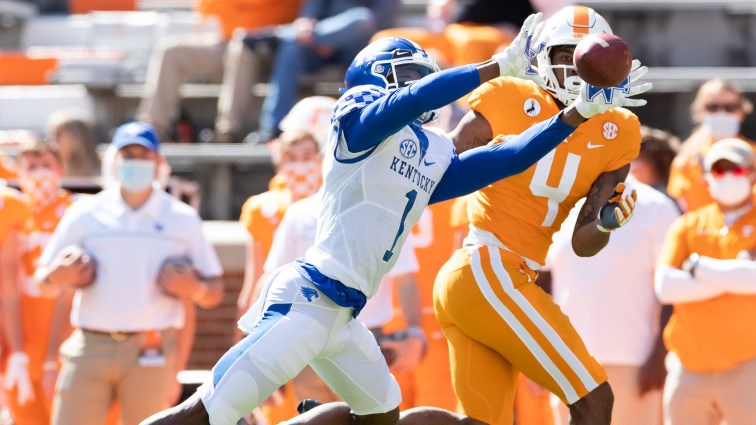 Kelvin Joseph turned this interception into a 41-yard touchdown return to start UK's win Saturday. (SEC Photo)
During my 45 years covering University of Kentucky football, I've seen a lot of things, especially when it comes to UK-Tennessee football. That's why UK hadn't beaten Tennessee the last 17 years or won in Knoxville since 1984 — until Saturday when UK won 34-7.
And it took the bizarre for it to happen as UK returned not one, but TWO interceptions for touchdowns in a 2 minute, 14-second span in the second quarter. First, Kelvin Joseph went 41 yards with the pick and on Tennessee's next series linebacker Jamin Davis went for 85 yards — UK's longest road interception return for a score since Joe Stephan's 89-yard score against Florida in 1969.
"I thought I was going to pass out," said Davis, who also led UK with 12 tackles, said. "Pick 6, let me get it. I thought I may as well run balls off and make my  momma proud."
That's why it was almost "disappointing" on Tennessee's next possession when UK cornerback Tyrell Ajian "only" intercepted back quarterback Jay Shroud's pass. He made the pick at the UT 37-yard line with no return for UK's third interception — and ninth in the last six quarters — in a 3-minute span. That set up a field goal that gave UK 17 first-half points, the most the Cats have scored in Knoxville since they also got 17 in 2004.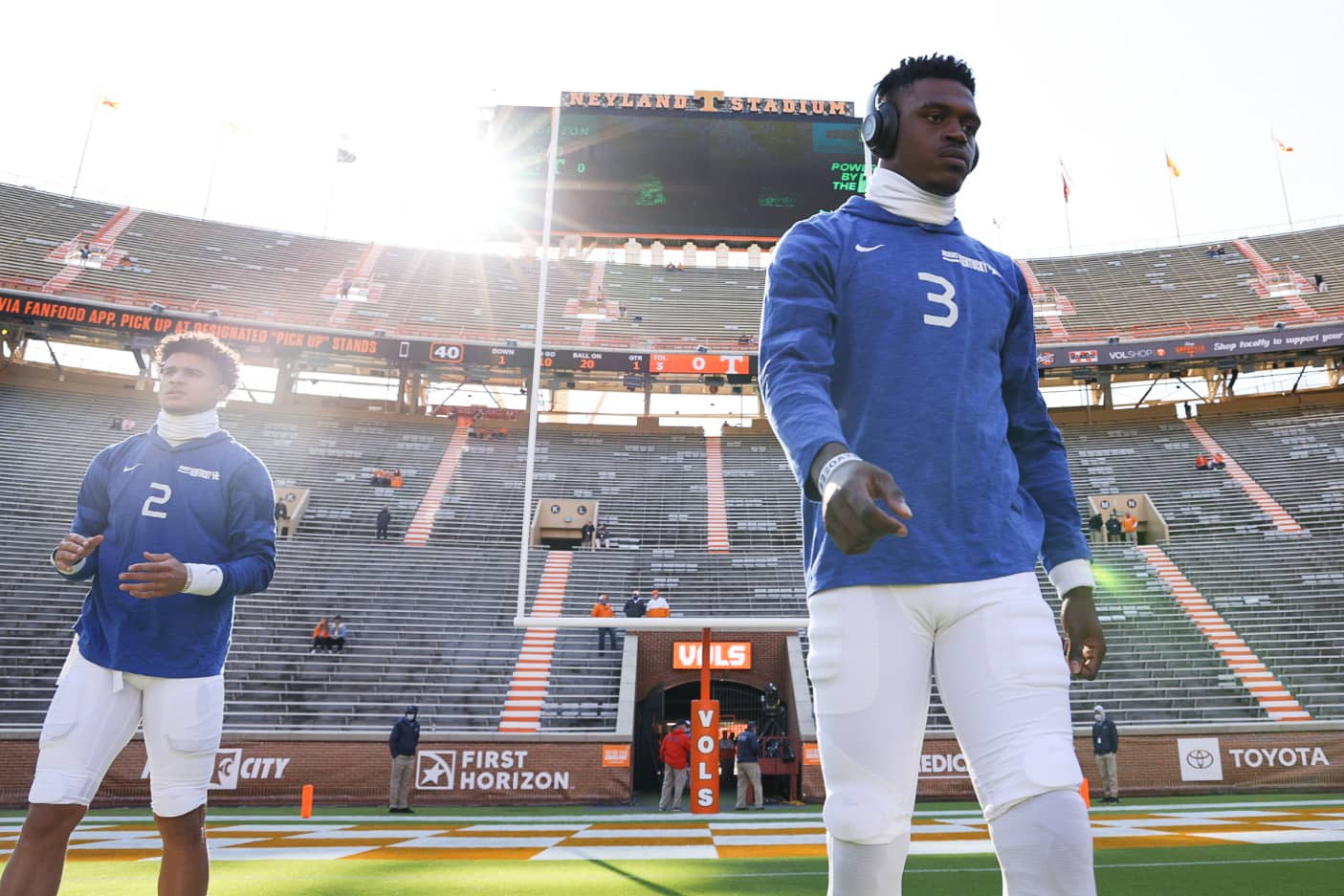 Even when you thought UK might be in trouble when the Vols scored before halftime to cut it to 17-7, the UK defense got a stop to open the second half and then the Cats moved 76 yards in 11 plays to score on a 1-yard pass to Allen Dailey. Chris Rodriguez had 42 yards on six carries.
With a 24-7 lead, Kentucky just had to make sure it did not beat itself and it did not. Kentucky took over the line of scrimmage in the second half and quarterback Terry Wilson was efficient like he normally has been for UK.
Wilson was 12-for-15 passing for 101 yards and one score with no interceptions and ran eight times for 23 yards in a much better overall performance than he had a week earlier in a week over Mississippi State.
"It doesn't surprise me he bounced back," Kentucky coach Mark Stoops said. "He is our starting quarterback and we expect him to play well. He is going to get better but we also played better around him, too."
Stoops was even more proud of the way his defense got the stop to start the third quarter and then held Tennessee scoreless the rest of the way. That means in the last two games UK has allowed just one touchdown.
"I love the way we started the third quarter (on defense) and then our offense took it right down (the field) and set the tone for the second half," Stoops said. "We are playing better team defense. When you are in good position and guys play hard, good things will happen."
Good things don't happen for UK often against Tennessee. Last year UK had a 13-0 lead in Lexington but lost 17-13. Two years ago UK laid an egg in Knoxville when it obviously had the better team but played its worst game of the year.
"This game was personal for me because the last time here it did not go the way we wanted. Just wanted to put our foot on their necks," Davis said. "Honestly after half, we wanted to come out and show people we could finish the game. Did not want to play lackadaisical but just finish the game."
Kentucky did that and Davis said the postgame celebration was nice but not extraordinary.
"We were definitely excited to get the win but we already know now it is on to work for the next one. It's always great to beat them," he said. "We are tired of coming here and leaving empty-handed. Winning is always special but beating them here is special."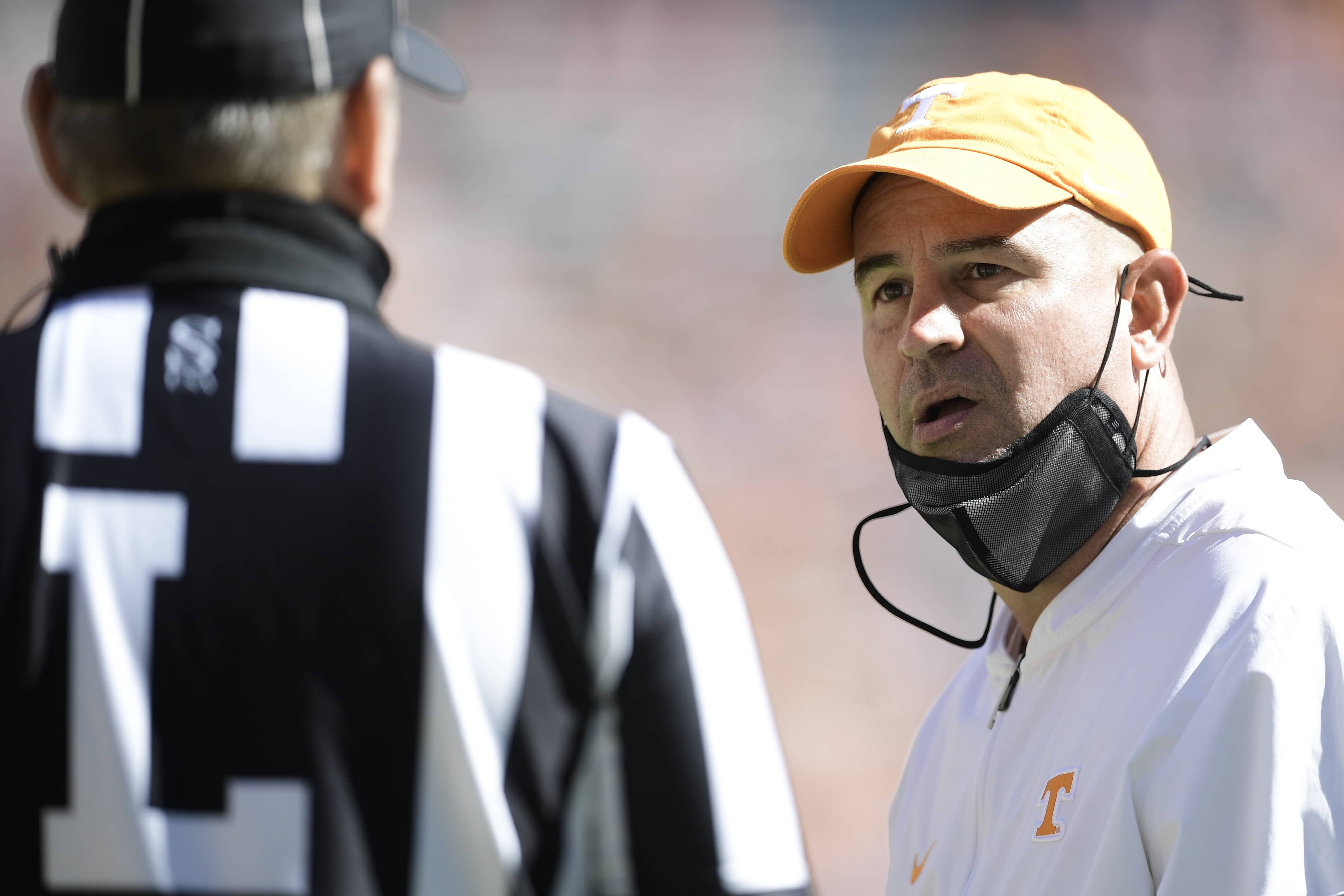 Last time we won in Neyland: today pic.twitter.com/H3ViaiMAF8

— Kentucky Football (@UKFootball) October 17, 2020