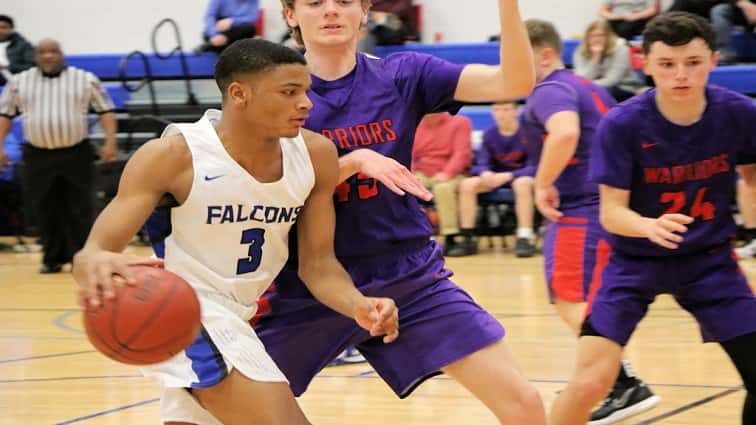 Just as they did prior to the start of the fall high school sports season, the Department of Defense Education Activity [DoDEA] has sent down guidelines that will limit winter sports competition at Fort Campbell and Fort Knox for the 2020-21 season.
In its latest guidelines released to its schools, basketball and wrestling will not be allowed to compete in 2020-21.  Basketball will be allowed to continue conditioning and individual skills but no contact or sharing of basketballs will be allowed.
Wrestling will be allowed to condition and do skill development with no contact. As of now, the DoDEA says no competition with other schools will be allowed to guard against the spread of COVID-19.
DoDEA made similar restrictions involving its fall sports.  Fort Campbell was allowed to have its volleyball program return to competition in late September but was ordered into quarantine after 12 games due to a positive test at the school.  As a result, the Lady Falcons will not play in the upcoming 8th District Volleyball Tournament.  Football and soccer at Fort Campbell continued conditioning but did not play a game in 2020.
While the latest news is a tough pill to swallow for the rebuilding basketball programs at Fort Campbell, it's an absolute gut-punch for a wrestling program that has sent wrestlers to the state tournament in recent seasons and a rising girls' program that placed in the top-five at state the past two years.
Cheerleading will be allowed to continue conditioning and individual technique and choreography work. They may not perform partner or group stunts.
Swimming will be allowed to compete at meets as long as relay teams can abide by the six-foot social distancing rule.
"The COVID-19 pandemic has presented a range of challenges to our schools and military communities in facilitating the return to school for all students and the appropriateness of participation in interscholastic sports. Our school leaders, commands, military public health, and medical professionals have a singular focus on doing what is best for students and employees. Health and safety is paramount in our decision-making process," DoDEA Fort Campbell said in a media release.
DoDEA had previously announced that installations in Health Protection Condition [HPCON] level Bravo will not participate in any Group III High or Group II Moderate Infection Risk athletics and activities, practices or drills as identified/defined in the DoDEA Reopening Athletics/Extracurriculars Manual guidelines.  Fort Campbell is currently at HPCON Bravo.
If conditions were to reach HPCON Charlie, no athletics or activities would be allowed. 
"As the number of COVID-19 cases continue to fluctuate and out of precaution for the safety of the students, staff, command, and parents, we have approved winter extracurricular activities and sports programs that continue to follow Centers for Disease Control and Prevention (CDC) and National Federation of State High School Associations (NHFS) guidelines. Our decision is in line with the DoD Health Protection Condition (HPCON) requirements," the DoDEA said.
"We understand that this decision may be upsetting for our students and their families. School events and activities are important to creating a sense of normality for students and communities. Balancing this sense of normality with social distancing can present a distinct challenge. Student needs, building configurations, Health Protection Levels (HPCON), installation conditions, and local government regulations must all be considered when making decisions."