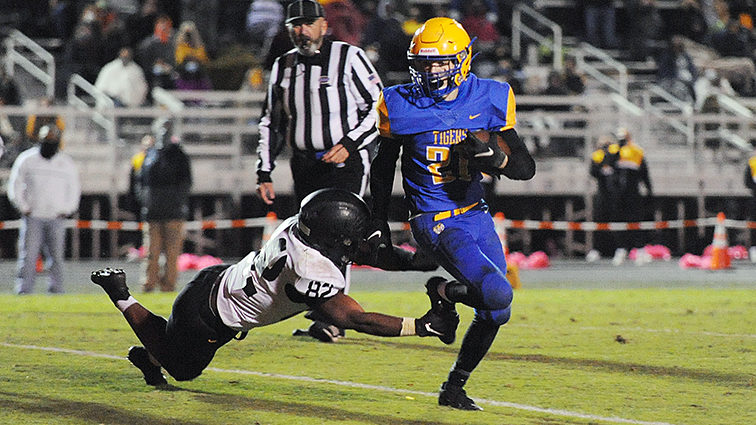 Caldwell County and Murray have been here before.
The blue-and-gold Tigers face the black-and-gold Tigers in a Class 2A 1st District playoff showdown Friday night in Murray.
If it's a typical Caldwell-Murray matchup, the game figures to go down to the wire.
The teams met Oct. 16 in Princeton. Caldwell outgained Murray 394 yards to 358, but Murray got out of town with a 41-34 overtime victory after Caldwell was held just short of the goal line on fourth down.
The close games go back almost a decade.
In 2012, Caldwell won 24-21 in Murray during the regular season, but needed a one-handed touchdown grab by Tez Sivils in the playoffs to turn back Murray 10-7. Caldwell went on to finish state runner-up that season.
In 2013, Caldwell won the regular-season meeting 42-13. But Murray flipped the script in the playoffs, beating a previously undefeated (12-0) Caldwell team 27-14 in the regional championship.
In 2014, Caldwell again took the regular-season contest 31-24, but Murray again spoiled Caldwell's postseason run. Murray took the playoff contest 47-28. Caldwell quarterback Elijah Sindelar was Kentucky Mr. Football that season. Murray, meanwhile, lost a disputed 14-7 decision to Louisville DeSales in the state semifinals.
The rivalry simmered for four years when Caldwell was moved to Class 3A from 2015-18.
However, the schools picked up right where they left off last season. Caldwell pulled out a 42-40 victory in action at Murray, but Murray pulled away late in the playoff matchup to win 34-17 in first-round action in Princeton.
Caldwell, the No. 3 seed in the district, is 3-3 this season with a pair of close losses. Besides the overtime setback to Murray, Caldwell fell 21-20 at Mayfield during the regular season.
Caldwell is playing its first game in three weeks after its scheduled regular-season finale against Christian County became one of three dates canceled this season because of COVID.
Murray is 5-3 and the No. 2 seed. Murray also lost 21-20 against Mayfield in another game that went to overtime. Murray had only one game canceled due to COVID, a district date against Ballard Memorial.
Murray quarterback Rowdy Sokolowski had a big game against Caldwell earlier this season as his team surprised Caldwell with a single-wing formation for much of the contest.
The junior ran for 118 yards and three touchdowns while passing for 146 yards and two scores.
Brendan Dahncke also had a good night, rushing for 89 yards and a score and catching two passes for 15 yards.
For the season, Sokolowski has run for 535 yards and 10 touchdowns while Dahncke, a senior, has 498 yards and six touchdowns.
Sokolowski has also passed for 848 yards and eight TDs, but has also been intercepted 10 times.
Meanwhile, senior Charvelle McCallister has 486 yards and nine touchdowns despite basically missing two games earlier this season — he saw very limited action against Caldwell and did not have a carry.
Dahncke is tied for the team lead in receptions with senior Dijon Miles. Both have 10.
Defensively, lineman Sebastian Lawrence may be the best player on the team. Lawrence has recorded 60 tackles this season, including 16 for losses. Junior linebacker Andrew Orr tops the Murray defense with 61 stops.
Murray has won three of its last four games, with the only setback being the OT loss to Mayfield.
Caldwell, on the other hand, has had trouble generating much momentum this season. A contributing factor has been the stops and starts of the season because of the three Fridays missed due to COVID reasons.
But the blue-and-gold Tigers played well their last time out, putting a running clock on Trigg County in a 56-17 victory on Oct. 30.
Quarterback Russ Beshear is the heart of the Caldwell offense. He has thrown for 1,044 yards and 11 touchdowns this season with only four interceptions.
Beshear is second on the team in rushing with 173 yards and three touchdowns.
Senior Travion Samuel leads Caldwell's ground game with 180 yards and a pair of touchdowns.
Caldwell's big-play target in the air is senior Baron Wells. Wells has 31 receptions for 502 yards and five scores. He is also a threat on special teams with punt and kickoff returns.
Senior receiver Tripp Branch has 16 catches for 305 yards and four touchdowns while Tate VanHooser, another senior, has made 15 grabs for 189 yards and a score.
Junior lineman Elijah Shaheen leads the Caldwell defense with 39 tackles this season, including nine tackles for loss.
Friday night's game kicks off at 7:00 at historic Ty Holland Stadium.
The winner earns a trip to top-seeded Mayfield in the second round of the playoffs.
Mayfield (7-1) received a bye in the first round after No. 4 seed Ballard Memorial opted out of the playoffs.