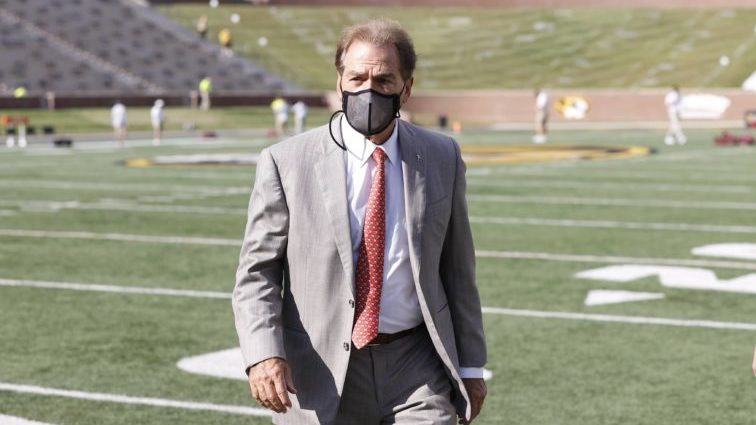 Listening to Alabama coach Nick Saban Wednesday on the Southeastern Conference coaches' teleconference it was hard to tell his team is a 31-point favorite over Kentucky Saturday.
"I think our players are really looking forward to playing the game. It's been several weeks now that we've been practicing, and with the bye week and a canceled game, we're excited about having the opportunity to play Kentucky, which is a very challenging team. They run the ball very effectively, and their defense plays really, really well," Saban said.
Remember UK gave up 407 yards and 35 points to Vanderbilt last week.
"One of the best defenses in terms of scoring defense and total defense in the conference and No. 1 in pass defense. Their style of play is a little bit different than what we've played against in the past. It's very effective for them and something that's gonna be very challenging for us," Saban said.
Again, remember Alabama has the SEC's best offense led by quarterback Mac Jones, a one-time UK commit.
"We really liked Mac in high school. We liked his athleticism. He was accurate with the ball. When he came as a freshman, he was probably 180, 185 pounds, was not very strong, needed to mature physically. A very, very smart and bright guy that actually took advantage of being behind some very good quarterbacks in his time here and used those experiences, I think, to help himself develop," Saban said.
"But the guy had one of those attitudes where he just wanted to get better and he just wanted to improve and be a player here. That's something that has paid tremendous dividends for him because he did make a tremendous amount of progress since he was a freshman, and he's playing very well for us right now."
Stoops is aware that defense is facing a tall order in Alabama RB Najee Harris and the rest of the Crimson Tide running backs.
"You're definitely gonna feel him," Stoops said. "You know in their backs I mean that's just, I think that's one of the reasons why they are so dynamic, you know, they're always good, but I think with the physicality of their running backs and their running game, and the dynamic playmakers they have outside and with Mac planets such a high level. You certainly feel that so it takes a toll on you for four quarters with tackling such physical back."
Kentucky coach Mark Stoops sounds more like a coach facing a big favorite when he talks about Alabama's running backs, especially Najee Harris.
"You're definitely going to feel him and the backs," Stoops said. "I think that's one of the reasons that they are so dynamic. They're always good. I think with the physicality of their running backs and their running game and the dynamic playmakers they have outside and whatnot playing at such a high level you certainly feel that and it takes its toll through four quarters with tackling such physical backs."