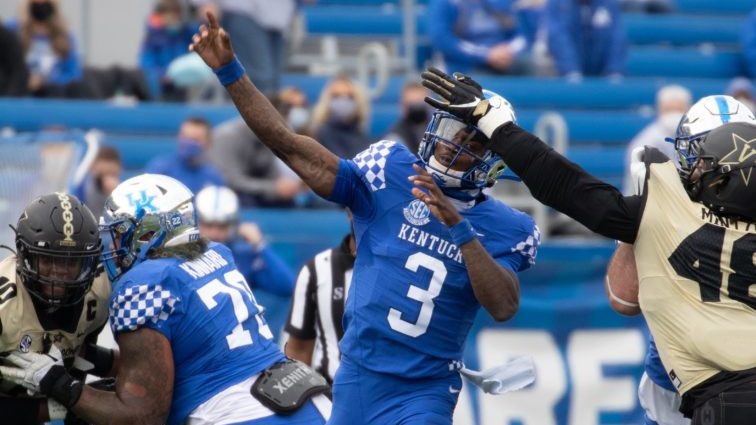 Terry Wilson had to know his job was on the line when Kentucky played Vanderbilt last week. Forget that he led UK to a 10-3 mark in 2018 and then missed all but two games in 2019 when he hurt his knee. Kentucky had got off to a 2-3 start this year with Wilson as the starter and the Cats had been inconsistent at best with the passing game.
Wilson missed the loss to Georgia due to a wrist injury but Stoops went back to him against Vanderbilt and he responded with his best overall game of the season against one of the SEC's worst defenses. Now he has to face No. 1 Alabama on Saturday afternoon.
"I was very pleased with Terry, the way he responded and the way he came out and started the game," Stoops said. "It was very hard to take him out and even let some other guys get some reps because he was playing so effective early in that game and really for the most part of that game Terry really played exceptionally well.
"I thought he was on time with the ball, he was effective throwing the ball, very efficient and was dynamic and decisive in his decision-making in the run game as well. There are things he can improve on but that's every player. We'll take a look at some of the reads and a couple things he can do better. But overall, I was pleased with his effort."
Yet even as pleased as he was, Stoops still gave Wilson a gentle reminder that he needed to keep playing well when he gave true freshman quarterback Beau Allen, a prolific high school passer, a series and let him come out throwing. He also gave Joey Gatewood, the starter against Georgia, more playing time.
"I think both Joey and Beau deserved opportunities. I put Beau in there, and I thought he looked very comfortable and it was good to get his feet wet and get him some reps. I thought he looked good and looked comfortable. That was good to see for us as well and I've been talking about the confidence I have in Joey and what he can do," Stoops said.