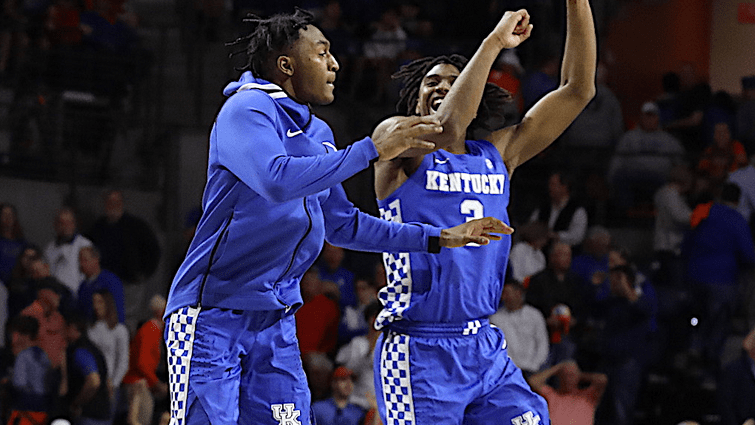 Being drafted in the first round was something Immanuel Quickley and his family believed could happen when he opted to leave Kentucky after his sophomore season. There was little more he could do to add to his resume after being the Southeastern Conference Player of the Year and leading UK in scoring and 3-point shooting.
Still every mock draft that I saw had the former UK guard as an early second round pick at best. However, the New York Knicks — where former UK assistant coach Kenny Payne is now on staff — made him the 25th pick in the first round Wednesday night.
After his selection, Quickley's supporters among national media members quickly surfaced on social media.
"When scouting Immanuel Quickley always thought the name was confusing people. His game was much more about his shooting than his quickness," tweeted 247Sports basketball analyst Jerry Meyer.
"My understanding is Immanuel Quickley won a number of teams over with remarkable shooting displays in private workouts over the past month. The Kentucky connections within the Knicks' front office and coaching staff certainly mattered. NY betting on his intangibles and jumper," Jeremy Woo, Sports Illustrated NBA insider, posted on Twitter.
Then there was this reminder Aaron Torres of Fox Sports Radio as well as college basketball/football writer:
"Have said since March, and stand by it: I don't care what the mock drafts say. Immanuel Quickley will be a first round pick on draft night. His skill-set translates perfectly to the modern NBA — can play on and off the ball, dead eye shooter, team player. It's a no-brainer."
Guess what? Torres was right, especially after Quickley hit about 75 percent of his 3-point shots and 94 percent at the foul line in his final workout for NBA teams.
The 6-4 Quickley averaged 16.1 points, 4.2 rebonds and 1.9 assists per game last season and shot 42.8 percent from 3-point range. But don't forget he has a 6-8 wingspan and became a very good defensive player for Kentucky.
Payne obviously played a role in Quickley's development at UK just like he did with Kevin Knox and Julius Randle, two other former Cats who are also playing for the Knicks now.
"He was one of those coaches that really pushed me on and off the floor. He's one of those guys that's going to hold you accountable, make sure you almost try to quit at practice, so the game comes easy," Quickley told the New York Post about Payne.
With Quickley's rise to the first round, Calipari has now had more than one first round pick in every draft he's been at UK. Kentucky is the only program since the draft went to two rounds in 1989 to have multiple players picked in the first round in 11 straight years.