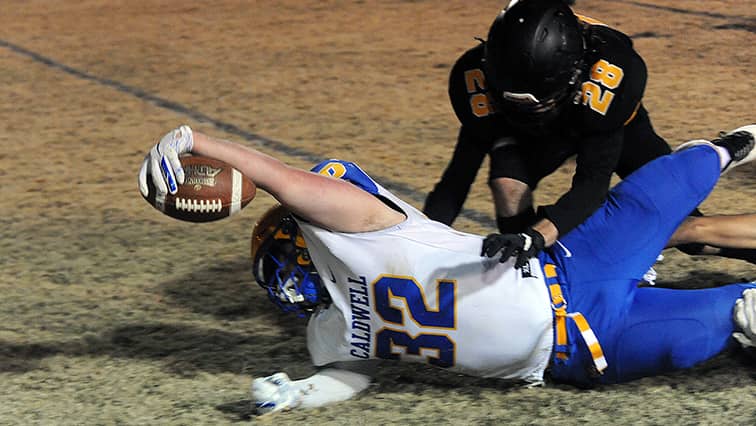 Anything other than a close game would have been a disappointment.
Caldwell County had two more first downs than Murray (18-16) while Murray had four more yards (363-359).
But the only numbers that really matter are the final ones on the scoreboard Friday night at Ty Holland Stadium: Murray 35, Caldwell County 28.
Murray (6-3) advances to the second round of the Class 2A playoffs to play Mayfield (7-1) next week.
Caldwell ends a sometimes-frustrating season of stops and starts with a 3-4 mark — Caldwell's first losing season in nine years. (Caldwell was 5-6 in 2011 but went all the way to the state championship game the following season.)
Murray, meanwhile, dug out of a 14-0 hole in the second quarter to defeat Caldwell for the third straight time — and in the first round of the playoffs for the second straight year.
Charvelle McCallister ran for 173 yards and two touchdowns for Murray, which totaled 266 yards on the ground.
Caldwell managed just 57 yards rushing, but quarterback Russ Beshear threw for 302 yards and three touchdowns — all to Tate VanHooser. Beshear ran for Caldwell's other score.
The visiting blue-and-gold Tigers used Beshear's 3-yard TD run midway through the first quarter and a 45-yard strike to VanHooser early in the second period to jump out to their 14-0 advantage.
Murray began to swing the momentum with a lengthy drive culminated by a 2-yard touchdown carry by Brendan Dahncke.
The black-and-gold Tigers then scored again just before halftime. A long pass by Rowdy Sokolowski went off the hands of a Caldwell defender and right into the hands of Murray's Daniel Klukan for a 46-yard touchdown pass. That came with just 50 seconds left in the half and sent the teams to the break tied 14-14.
Murray took the lead for the first time on McCallister's 52-yard gallop early in the third quarter. That helped make it 21-14 for the home team.
Caldwell countered with a 51-yard TD pass to VanHooser to knot things again, 21-21, at the 8:51 mark of the third quarter.
But McCallister broke loose on another long scoring run on Murray's next play from scrimmage. This one went 74 yards and put Murray back in front 28-21.
Caldwell's defense held Murray largely in check the rest of the way, but the Caldwell offense was also stymied without much of a run game.
With just under 5 minutes to go, Caldwell found itself facing 4th-and-9 from its own 30-yard line. Caldwell tried a fake punt, but Murray wound up not only intercepting the pass, but Dijon Miles returned it 42 yards for a touchdown. That helped extend the Murray advantage to 35-21 with just 4:47 to play.
Caldwell still made things interesting late.
First, Beshear hit VanHooser with a 5-yard scoring toss with 1:23 to play. That got Caldwell back within 35-28.
Caldwell failed to recover an onside kick, but was still able to use its timeouts and force a Murray punt.
That gave Caldwell 59 seconds to try to go 80 yards for a tying touchdown.
Caldwell reached the Murray 44 following a 15-yard completion to VanHooser and a 2-yard toss to Travion Samuel.
However, down to its last play, Caldwell couldn't get off a pass downfield as Beshear was sacked from behind at midfield to end the game.
VanHooser finished with six receptions for 149 yards for Caldwell.
Elijah Shaheen led the Caldwell defense with 11 tackles and a fumble recovery. Angel Long had eight stops, a fumble recovery and a blocked punt.
Murray also won at Caldwell County during the regular season, claiming a 41-34 decision in overtime in the earlier matchup.