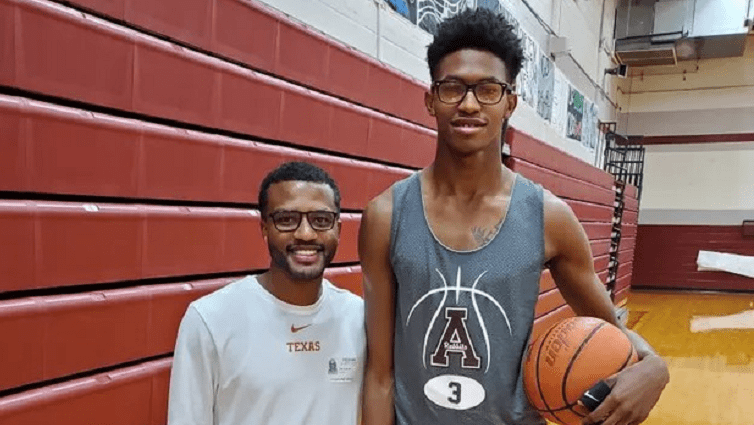 John Calipari's current 2021 recruiting class might not have that instant superstar but recruiting analysts certainly like the upside for 6-9 Daimion Collins of Atlanta, Texas.
"Collins is elite on both ends on the floor in two specific areas. First and foremost as a rim protector and second as a finisher," said Paul Biancardi, national recruiting director for ESPN. "His hands are excellent to catch lobs, finish drop off passes in the dunk spot with a quick burst. His face up jumper and jump hook has demonstrated rapid progress.
"His physical tools, mobility and developing skill make him an exciting prospect with a huge upside. He is close to 6-10 with a 7-4 wingspan. He impacts the game without scoring which is a rarity. When his offensive game blossoms and becomes consistent, you're looking at the future high lottery pick down the road."
He averaged 24.6 points, 13.7 rebounds and 7.7 blocks per game as a junior at Atlanta High School and was a Third Team All-State selection by the Texas Association of Basketball Coaches. Collins is a five-star recruit ranked as the No. 10 overall player in the 2021 class by Rivals. He's ranked 19th by 247 Sports and 24th by ESPN even though Biancardi expects that ranking to rise.
Krysten Peek, basketball writer for Rivals and Yahoo, got to see Collins play recently at the Pangos All-American Camp in Chandler, Ariz., where he made the all-tournament team along with point guard Nolan Hickman, another UK signee.
"He is super athletic and can obviously jump better than anybody in the gym," Peek said. "If a defender misses a box out he is not only rebounding the ball but dunking it every single time. He's going to be fun for Kentucky fans to watch."
Peek says Collins is not the shot blocker that 7-footer Chet Holmgren, one of the elite players in the 2021 class, is but he's still special defensively.
"His timing needs to get better, but he definitely is a great rim protector," Peek said. "I don't think he is too thin but he has room to add muscle mass and weight. He has been working on getting stronger and he understands the SEC has a lot of stronger, bigger bodies that he needs to compete against."
Kentucky coach John Calipari called Collins an "incredible young man" and Peek agrees.
"He is just a really, really nice kid," she said. "Very soft spoken and a hard worker. He is excited to be playing at Kentucky."
Peek believes his offensive game might be better than some realize.
"He has got great instincts in the pick-and-roll and pick-and-pop," Peek said. "His game does not extend to the 3 (point line) yet but his midrange game is good. He has a high release on his jump shot to go with his size."
Kentucky assistant coach Joel Justus says his shot blocking and rebounding are his biggest assets but like Peek believes his offensive game is solid and will get better.
"He is a guy that has gone from being able to score around the basket to scoring off the top of the key. He has good ball skills and is going to be a guy that I think when he shows up here we are going to see a better player than we have seen to this point," Justus said.
"He is a guy that continues to get better on both ends of the floor. We look for guys that are hungry and driven. Daimion is that guy."