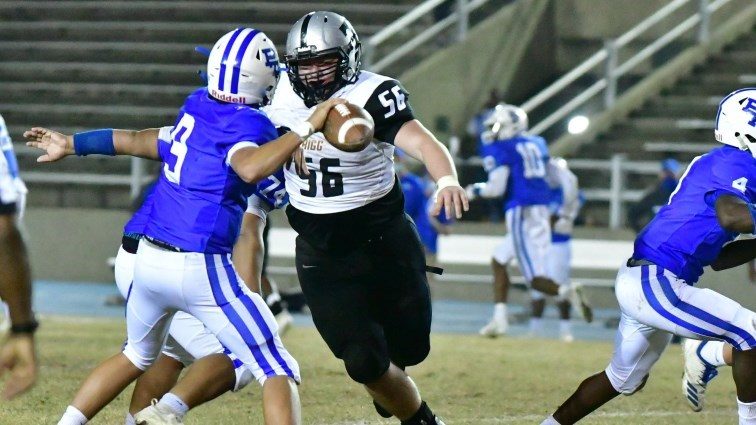 If there were any question as to whether Paducah Tilghman would be rusty after not playing a game in over a month due to COVID-19 concerns, they were quickly answered by the Blue Tornado.
Malachi Rider scored on touchdown runs of 58 and 57 yards on Tilghman's first two plays as the Blue Tornado went on for a 53-21 win over Trigg County in the first round of the Class 3A football playoffs Friday.
The freshman running back ran for 274 yards on just 11 carries and scored four touchdowns.  Rider has rushed for 463 of his 727 yards this season in two games against the Wildcats.
Rider added his third touchdown of the first quarter as Tilghman built a 20-0 lead.  The Tornado outgained Trigg County 222-22 in the first quarter.
LeBran McMullen added a 61-yard run with 8:34 left in the first half as Tilghman extended its lead to 26-0.
Trigg County's best chance to dent the scoreboard in the first half came in the final minute.  Despite having a 1st-and-goal situation at the 7-yard line, Trigg failed to score when a sack and missed field goal ended their chance.
Trigg quarterback Jacob Wease was 6-of-16 for 136 yards but left the game early in the third quarter with a leg injury.
Tilghman tacked on three more touchdowns to build a 46-0 lead. Brian Thomas scored on an 86-yard run, Quantarous Thomas picked off a Beau Hendricks pass and returned it 21 yards for a score, and Uriah Virzi added a 13-yard run.
Trigg got on the scoreboard with 10:16 left when Hendricks hit Jaquellus Martin on a 13-yard scoring play.
After Trigg recovered an onside kick, Hendricks again connected with Martin on a 31-yard pass with 8:47 left.  The Wildcats recovered a second onside kick and Hendricks again hit Martin with a 31-yard scoring pass with 6:15 left for a 46-21 Tilghman advantage.
Martin had seven catches for a school-record 244 yards. The previous mark was 232 yards by Dustin White in a 2008 game at Heath.  Hendricks was 6-of-16 for 156 yards and three touchdowns – all to Martin.
The Tornado tacked on one final touchdown when Rider scored his fourth touchdown on a 40-yard run with 4:11 left.
Tilghman rolled up 458 rushing yards on the night on 23 carries for a staggering 19.9 yards per carry.
Trigg County had 361 total yards but just 69 on the ground, led by Kendric Adams' 47 yards on 15 carries.
Paducah Tilghman's win was its 20th straight in the first round dating back to 1999. They will play at Union County in the second round next week. The Braves beat Webster County 54-26 Friday.
Trigg County's season ends with a 3-7 record.  They have lost all 12 meetings with Paducah Tilghman in the series.  Since moving to Class 3A in 2011, Trigg County has lost eight of its nine playoff games.