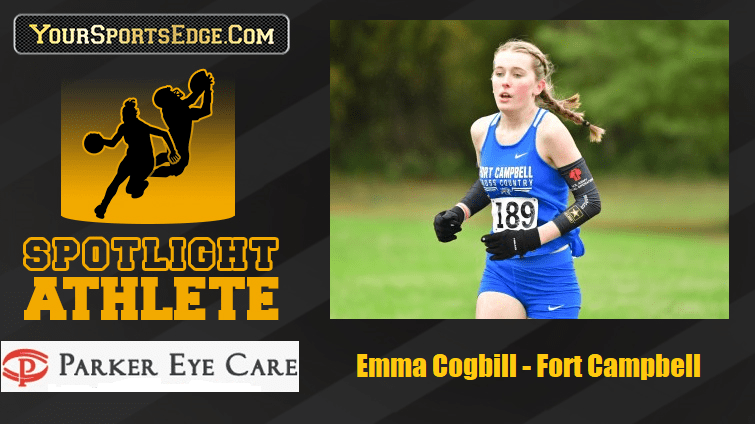 When COVID-19 took away the sport Emma Cogbill loves, she did what any good athlete does.  She began playing another one.
The Fort Campbell junior was a starter on the Lady Falcon soccer team as a sophomore.  She was working over the summer to prepare for her junior season on the pitch when DoDEA announced there would be no soccer season at Fort Campbell due to concerns over the coronavirus.
Cross country and golf were not affected by the shutdown, and volleyball was later allowed. So that her junior athletic season wasn't lost, Cogbill and some of her soccer teammates decided to run cross country.
While soccer also involves running, mostly quick bursts of stopping and starting over 80 minutes of play, cross country is 3.1 miles of a steady pace.  Cogbill made the switch easily.
She had a pair of top-15 finishes at 2,500 meters when the season began in the fall.  When the race distances increased to 5,000 meters, Cogbill recorded three top-10 finishes including a fifth place finish in her first region meet.
Her run, coupled with those of her teammates, helped the Lady Falcons win the Class A region title.  Cogbill was 76th at her first state meet in Paris.
Without the shutdown, it's unlikely Fort Campbell's cross country program would have had the help of the soccer players and win the region title.  However, the shutdown also allowed Cogbill to embrace a new sport — one that will help improve her soccer game.
Will Emma try and do both sports in the fall of 2021 if the United States is able to move past the coronavirus in a safe manner? That remains to be seen but don't bet against it.  If it's something that will make her better, Emma Cogbill is all in.