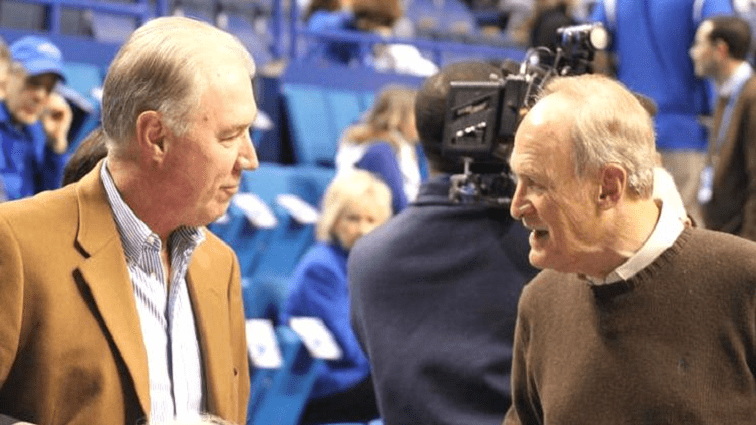 Mike Pratt, left, with former LSU coach Dale Brown. (Vicky Graff Photo)
Due to a Southeastern Conference mandate, Tom Leach and Mike Pratt will not be traveling to away games this basketball season. Instead, the UK Radio Network team will call the away games from a studio in Lexington much like ESPN and SEC Network announcers have been doing during football.
"I will really miss going to the shoot arounds before games. I picked up a lot of things I could use and others I couldn't but could still find a way to use in my own words," said Pratt, a former UK All-American and the network analyst.
"It's going to be really different. I honestly do not know how hard it will be because I have never experienced anything like that but apparently all the leagues are going to that. The SEC has the affiliation with the SEC Network obviously so we can get what we need to call the game."
One person with experience calling a game without being at the arena is former UK All-American Kyle Macy. Pratt said he did it a few years ago for ESPN.
"Macy said it was actually kind of neat and if you have enough televisions you can see a lot of different angles that you cannot always see from courtside. I am looking forward to it," Pratt said.
"Sometimes you go through life wishing you could have done things, so now I get this chance. I will still be in the same room with Tom, just watching while we are social distancing. So if the Cats are on the road, we will be in a studio in Lexington but it's going to be fine. Others are doing it so I am sure we can do it also."