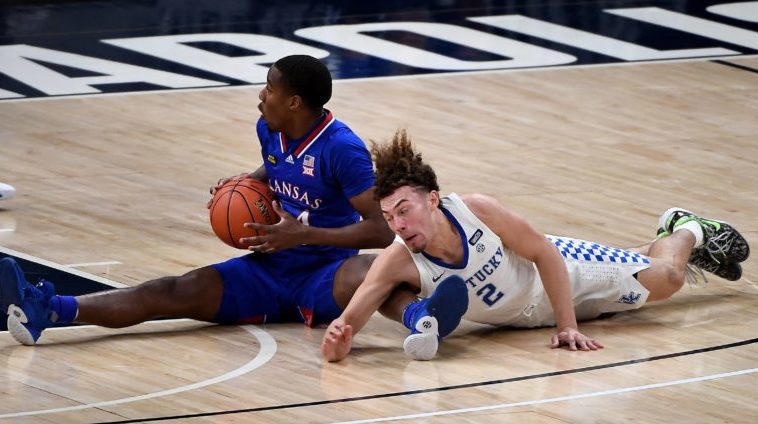 Kentucky point guard Devin Askew has had trouble turning the ball over in UK's two losses. (ESPN Photo)
Former UCLA and Hall of Fame basketball coach John Wooden once said, "I'd rather have a lot of talent and a little experience than a lot of experience and a little talent." Most UK fans should agree wholeheartedly with Wooden. Here's why.
UK has a lot of talent and a little experience. They lost games on Sunday and Tuesday that they should have won — and probably will win later in the season. They put themselves in a position to win both games as they entered the final 20 minutes of play. But in the second half both Richmond and Kansas stepped on the gas defensively.
That's also when point guard Devon Askew didn't seem to know what to do and the UK team drove into the ditch. He had some help from backup point guard Davion Mintz. They both combined for 0-for-7 shooting, two assists and three turnovers in their 45 minutes of play against Richmond on Sunday. Against Kansas Mintz played slightly better in an increased role shooting 4-for-11 with two assists and three turnovers in 23 minutes. Askew had another poor showing against Kansas shooting 1-for-5 with one assist and four turnovers in 24 minutes.
Now, I know, some of you are asking why I would bring up the poor point guard play when almost every player on the floor has played poorly. Yes, they all have had defensive lapses. Yes, they all have turned the ball over. And yes, they have all taken ill-advised shots. But that's just the point (no pun intended), except for the defensive lapses, the point guard position influences those other errors by other players.
Here's what I mean. The point guard should be setting the table for the tremendous amount of talent he is playing with on the floor. Had they effectively fed the post area to Olivier Sarr, Isaiah Jackson and Kentucky's other big men in both games UK could have maintained some offensive composure and potentially avoided the second half meltdowns.
Had Askew been able to drive the ball effectively, UK could have opened up passing lanes to players cutting to the basket when both Richmond and Kansas, with smaller lineups, would have inevitably had to rotate to the ball and help in the paint. That type point guard play would have allowed Kentucky to play to their strength — length and athleticism under the basket.
Instead Askew and Mintz played to the team's weakness — outside shooting. They moved the ball to a perimeter player who then either threw up a poor shot from beyond the arc or tried to drive through traffic and turned the ball over.
Either way it comes back to the point guard. Askew, and Mintz if he is allowed to play more point guard minutes, should make the big men post up on the low block and then drive to a spot on the floor where they get a proper angle to feed the post. The big men need to seal their defender on their hip to allow the pass into the post.
If the big men aren't in the correct position or not sealing their men the point guard should be in their ear telling them about. This happened once in the Kansas game during a timeout when Mintz immediately began to tell Isaiah Jackson to post up and seal his man and John Calipari came running out on the court to reinforce that same point. UK needs more of that type leadership from their point guards.
The point guard is the heart of the team. If he doesn't work, nothing works. Like a quarterback distributing the ball in football based on what the defense does, a point guard should react the same way.
Neither of UK's point guards reacted to the defense very well on Sunday or Tuesday. At times they looked like deer in the headlights. That's why the wheels came off in the second half. Richmond and Kansas both became more physical and stepped up the defensive pressure and instead of the point guard taking advantage of the overplay they backed off.
John Calipari said as much in his post-game conference after the Kansas loss. He said, "We just weren't rough enough. That's why I kept putting guys in."
Had they played tougher on offense they could have isolated players in the low post — UK had a height advantage at almost every position in both games — and fed the ball, then cut off the feed for a "give and go" or had the low post player beat his man to the basket with a pivot and drop step as Sarr did numerous times in the first half of both games.
So for UK fans who are saying the sky is falling, it's not. This team has tremendous upside if they learn to take better shots and the point guards learn how to effectively manage the offense and distribute the ball. This team rebounds well, they can dominate most teams around the rim with their size and athleticism but they need someone to get them in the correct position to do that.
With a team full of slashing scorers, and not high percentage shooters, running a high post or low post offense with the post players UK has would ultimately pay huge dividends offensively if the point guards can get the players into the correct position and make the appropriate passes. In other words – effectively feed the big men.
This Calipari team should be able to compete with any team in the country if they stick to fundamentals — solid team defense and shot blocking, excellent low post scoring and rebounding on the offensive and defensive glass and getting out quicker in transition after they block a shot or get a turnover against their opponents. Those appear to be the strengths of this Kentucky team.
One area they will have to improve is free throw shooting. If they are going to score around the basket on mostly drives, low post moves and put backs, they are going to get fouled. They have to make those shots to win games that are close down the stretch.
It's been a while since a Calipari-coached Kentucky team hasn't had a dominant scoring point guard — one that can drive to the basket and help set up his teammates for easy shots and dunks. This might be one of those years but that doesn't mean this can't be a great team. It just means they need to follow the lead of the 2012 team with point guard Marquis Teague and not the 2013 team with Ryan Harrow.
— Keith Peel, Contributing Writer