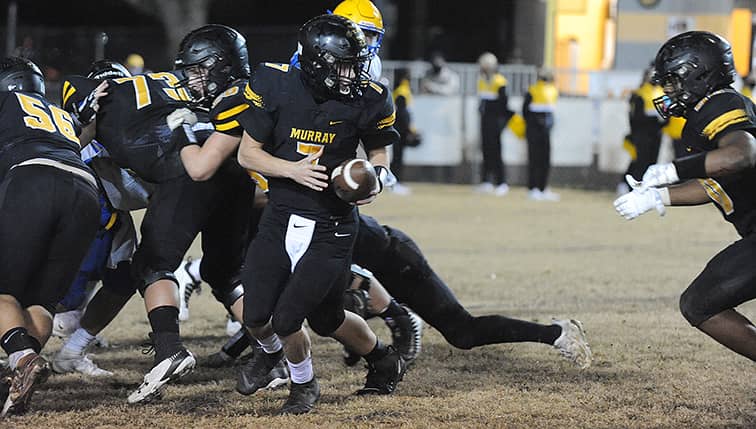 Murray is headed to Lexington Christian Academy for the Class 2A state semifinals after dispatching Owensboro Catholic 28-7 Friday night in regional final action at Ty Holland Stadium.
Charvelle McCallister had a pair of touchdowns for Murray (8-3), which led 14-7 at halftime.
The Tigers grabbed an early 7-0 on a 1-yard quarterback run by Rowdy Sokolowski at the 7:50 mark of the opening period. That came after Murray converted on fourth down from the 5-yard line.
McCallister then turned a short pass into a 53-yard touchdown completion with 18 seconds left in the first quarter. That helped extend the margin to 14-0.
Owensboro Catholic (7-4) looked to get back in it o a 1-yard touchdown run by Braden Mundy with 10:48 left in the first half.
That made it 14-7. A long pass from Mundy to Trey Roberts set up that score.
But the Murray defense would not give up another score in the game.
Brendan Dahncke ran 13 yards for a touchdown with 7:22 left in the third quarter to give the Tigers some breathing room at 21-7.
McCallister scored on a 1-yard run with 2:06 left in the period as Murray took its 28-7 advantage to the final frame.
Murray ran for 247 yards as part of its 332-yard total.
Meanwhile, the Tigers held the Owensboro Catholic ground game to just 68 yards. The Aces had 193 total.
Murray dominated time of possession, holding the ball for over 33 of the game's 48 minutes.
Dahncke finished with 135 yards rushing while Sokolowski had 62 and McCallister 42.
Sokolowski completed 5 of 10 passes for 85 yards. McCallister made two grabs for 78 yards.
Mundy ran for 43 yards and passed for 125 for Owensboro Catholic, completing 6 of 16 attempts while being intercepted twice.
The Tigers now hit the road next week, needing just one more win to advance to the Class 2A state championship game at Kroger Field in Lexington.
Next week's opponent, Lexington Christian (9-1) advanced with a 43-13 triumph over Metcalfe County.
The other state semifinal contest will have Beechwood (8-2) at West Carter (10-1).