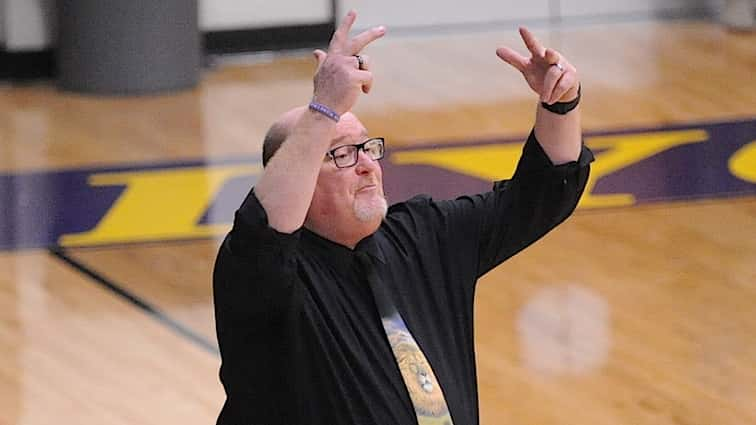 Lyon County not only returns six of its top seven scorers from a year ago, but Lady Lyon head coach Jeff Doom is back as well.
Doom had originally indicated last year that he planned to step down following the season. However, Doom decided to return after Lyon lost in the semifinals of the 5th District tournament.
"We didn't get to the regional tournament last year — and that really hurt," said Doom. "I know a lot of people thought I was retiring, but one of the reasons I came back was, that left a nasty taste in my mouth — to go out without getting to the regional tournament. So we're back trying to get that. We want to win the district, and once we win the district then hopefully we can make some noise in the regional tournament."
Doom is beginning his 12th straight season as Lady Lyon head coach. He is 184-144 during that time.
He also has 47 wins during a five-year run as Lyon boys' head coach from 1993-98, giving him 231 wins on the Lyon bench.
His Lady Lyon squads had produced six consecutive winning seasons before turning in a 13-17 worksheet last year.
The 2019-20 season was highlighted by a 2nd Region All A Classic championship. But the season ended with a heartbreaking 44-43 loss to Trigg County in the district tourney semifinals.
Most everyone returns from that Lyon squad, with the Lady Lyons figuring to be right in the middle of things in the regional All A Classic and the district tournament again this season.
Rose Smith, a 5-foot-10 junior forward, is the leading returning scorer for Lyon at 13.1 points a night last season. She also grabbed 5.1 boards.
The only one of Lyon's top seven scorers not back this season is sophomore Cathryn Brown. Brown, one of the top prep golfers in the area, has stepped away from basketball to spend more time honing her golf skills. She scored 12 points a game while grabbing 4.2 rebounds.
But Lyon can still put an experienced starting five on the floor.
Joining Smith up front is Calista Collins. The 5-7 senior led the team in rebounding last season at 7.9 a game while also netting 7.1 points. Collins has already signed to play college softball in the Big Ten Conference at Rutgers.
Senior Kenttavia Matthews and junior Hadlie Butler figure to start in the backcourt. Matthews scored 3.6 points a game last season while also averaging 5.1 rebounds. Butler scored 2.8 a game.
Gracen Wynn, a 5-8 sophomore, can play on the wing and will also see some time at point guard. Wynn shot 40 percent from 3-point range last year while averaging 4.6 points a game.
Sophomore Ella Defew averaged 3.5 points and 3.3 rebounds last season and could challenge for a starting spot.
Eighth grader Lilly Perry will provide depth at guard. She is the daughter of Lyon boys' head coach Ryan Perry.
Also, 5-9 freshman Lexi Holland could be a contributor in the backcourt as well, along with 5-4 senior Katelyn Dykes.
The Lady Lyons will open the season with a 5th District contest, hosting Crittenden County for a varsity-only date at 6 p.m. on Tuesday, Jan. 5.
Fan attendance at Jason White Gymnasium will be limited, especially early in the season, due to continued concerns over COVID-19. However, Lyon supporters can still watch all of the home games on the school's YouTube channel. Those online videos will also include the audio from Lyon's radio broadcasts on WCCK-FM 95.7.
"We're ecstatic that we're going to get to play. I think the girls are really excited," Doom added. "I've been very impressed with the unity this bunch has got this year and it seems like they're having fun. It seems like they're playing very unselfishly and that's what we want."