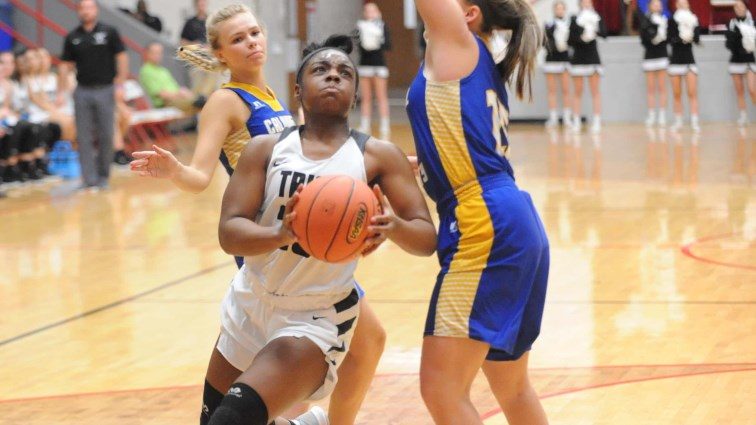 The days of the Trigg County Lady Wildcats flying under the region radar are over.
Cory Coble has piloted the Lady Wildcats to back-to-back district titles for the first time in school history. Last year, Trigg won a school-record 25 games and advanced to the region semifinals for only the second time.
Three starters are back for Trigg County including leading scorer Olivia Noffsinger. The sophomore led Trigg in scoring (10.0 ppg.), steals, and 3-pointers made.  Her game was good enough to be voted All-Region but somehow was snubbed for All-District honors.
Noffsinger hit the weight room during the summer COVID-19 shutdown which should see her ability to drive into the paint and finish improve.
Senior Iyanna Grubbs will move from the 6th man role to a starting role and give Coble speed on defense. Rounding out the backcourt will be senior Adri Phillips who scored nine points a game.
Senior DeDe Barbee, who averaged three points a game as a sophomore, didn't play last year but returns to give Coble depth. It also allows the Lady Wildcats to press more.
Sophomore Tajah Grubbs and freshman Landi Rogers will also see time in the backcourt.
Junior Marleigh Reynolds returns in the middle and looks to add to her improving numbers of 8.2 points and 6.6 rebounds.  She led the Lady Wildcats in shooting at 49-percent.
Senior T.T. Grubbs (3.0 ppg., 4.7 rpg.) and sophomore Kara Hyde (2.2 ppg., 2.2 rpg.) will also give help on the frontline as will sophomore Sarah Sink.
Coble has a bevy of underclassmen that will see playing time at some point. However, like a lot of coaches, Coble will likely play a small rotation in the early part of the season to compensate for lost practice time in December.
Shooting will determine how good the Lady Wildcats will be. Trigg shot just 31-percent from the field last year, including 22-percent from 3-point range.  In its nine losses last year, Trigg County shot 27-percent from the field and 42-percent from the free throw line.
Trigg will generate offense from its defense, but they have to finish in transition. If their shooting improves, Trigg County could make it a district three-peat win 20 games in consecutive seasons for the first time.
The Lady Wildcats open the season Tuesday at Todd County Central.