Lyon County rode an early blitz at Livingston Central into the 2nd Region All A Classic semifinals.
The Lady Lyons opened the game with a 19-0 run and held the Lady Cardinals without a field goal for over 10 minutes.
Lyon was never threatened after that, posting a 58-30 victory.
The Lady Lyons (2-1) will next face Caldwell County in Thursday's late semifinal in Smithland. The opening matchup will pit Crittenden County and Dawson Springs.
Lilly Perry's stickback gave Lyon its 19-0 lead with 1:27 left in the first quarter.
Aubrey Leahy got Livingston (1-3) on the scoreboard when she made the first of two free throws at the 0:59 mark.
But Lyon led 21-1 after one quarter.
Calista Collins scored from in close to make it 23-1 before Livingston's Maggie Downey recorded the Lady Cardinals' first field goal on a drive to the basket with 5:16 left in the half.
Livingston got only as close as 16 points at 25-9 before a pair of late 3-pointers by Gracen Wynn ­— one at the buzzer — helped the Lady Lyons get to halftime with a 33-11 advantage.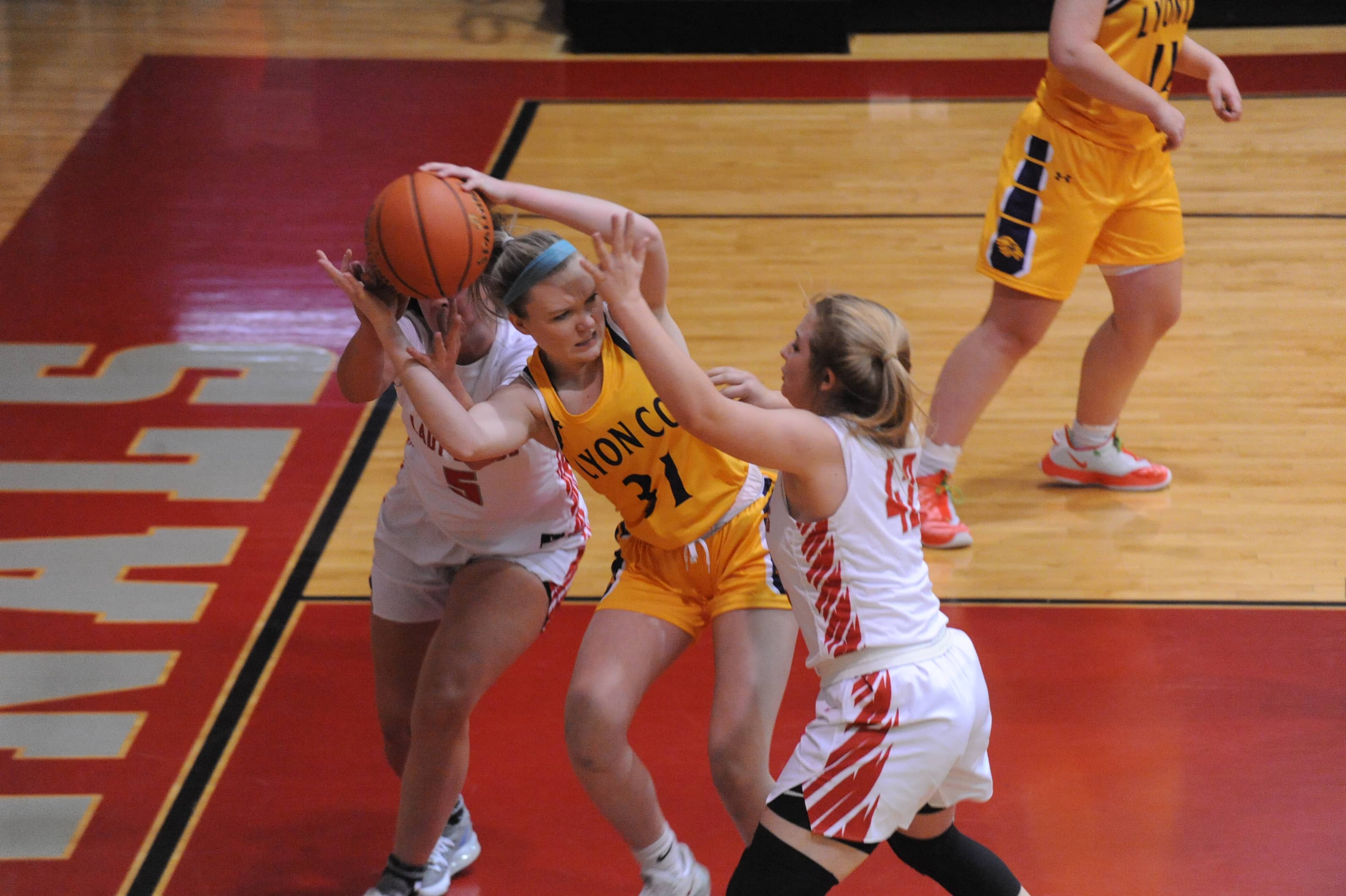 Lyon extended the margin to 45-18 through three quarters.
The biggest lead of the night came at 48-18 following a driving basket by Hadlie Butler with 7:35 to play.
Collins finished with a game-high 19 points and 10 rebounds for the Lady Lyons while Wynn added 15 points and seven boards. Butler had 10 rebounds to go with six points. Rose Smith had eight points and seven rebounds.
Livingston got eight points and eight rebounds from Victoria Joiner. Leahy also had eight points while Lauren Wring finished with seven points and six boards.
Lyon outrebounded Livingston 47-32.
For more photos from the game, CLICK HERE
Lyon County                21   12   12   13 — 58
Livingston Central     1    10    7    12 — 30
Lyon County (2-1)—Calista Collins 19, Gracen Wynn 15, Rose Smith 8, Hadlie Butler 6, Kenttavia Matthews 4, Lilly Perry 4, Katelyn Dykes 2.
Livingston Central (1-3)—Victoria Joiner 8, Aubrey Leahy 8, Lauren Wring 7, Maggie Downey 4, Kennedy Croft 2, Erica Quertermous 1.