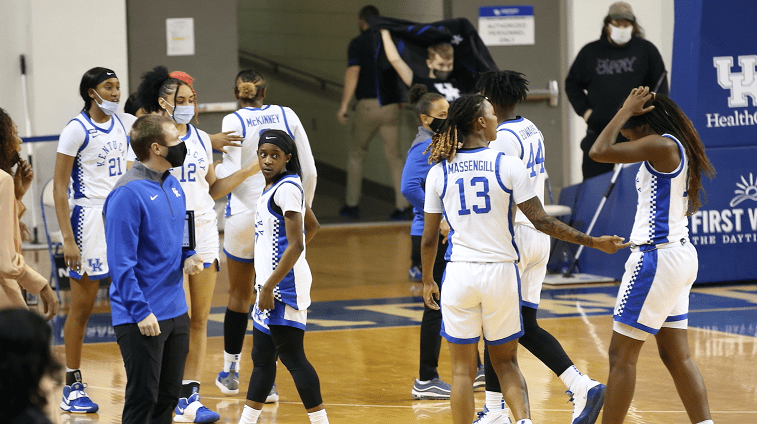 South Carolina coach Dawn Staley was not happy with the way her No. 5 team played the first half at Kentucky. She didn't care that COVID-19 protocols had left her team wondering if Sunday's game would even be played until late Saturday and the Gamecocks had just one practice to get ready for the game.
"Kentucky forced us to turn the ball over a lot, especially the first two quarters, and that led them to pushing the ball down our throats," Staley said.
Kentucky had a 41-32 lead at halftime and All-American Rhyne Howard had 19 points on 8-for-13 shooting for the No. 10 Cats, something Staley admits set her off at halftime.
"I just challenged our players to guard. They looked a little tentative in guarding Rhyne and all the players. We weren't disciplined," Staley said. "You are not going to stop Rhyne Howard from scoring. Let's make it difficult. Don't give her what she wants.
"She is pretty darn savvy with that basketball. I just wanted her to shoot 38 percent rather than her normal percentage. Sometime you have to jolt your players into doing the right things and focusing on what made us who we are."
Whatever she said, it worked. South Carolina took control of the game late in the third quarter and then held off UK 75-70. Howard finished with 32 points but was 5-for-12 from the field the second half. Howard also ended the game with seven rebounds and three assists.
Howard, who had her fifth career 30-point game, missed a 3-pointer with about 20 seconds to play that could have tied the game.
"Well, we actually were going to go for a quick two," Kentucky coach Kyra Elzy said. "However,, you know, I trust Rhyne. She has great instincts and play off of it. If she's open, I give her the freedom to make that read, take that shot, and we can live with that shot."
Kentucky (9-3, 2-2 SEC) got 12 points and seven rebounds from Dre'una Edwards and 12 points and four assists from Chasity Patterson. However, UK's other players combined for just 5-for-26 shooting from the field and scored only 14 points.
"Dre'una Edwards who has not been playing well, I thought she came in and made some big plays. We have people that can score. So I'm not worried about our scoring. We have playmakers on the floor, and it might be different people every game, and that is okay," Elzy said.
"Right now, I am more disappointed in our transition defense. We really didn't step up as a guard unite, get the ball stopped. Unfortunately, it cost us tonight, along with offensive rebounds, but this is how you grow. You continue to learn, grow, get better and move forward."
Staley admitted South Carolina won because it pushed the ball in transition when UK guards could not stop the ball and rebounding where it had a 46-31 advantage. The Gamecocks got 56 of their 75 points in the paint. Kentucky got 34.
"We just found a way to win and that's a really good sign for our team," Staley said.
"They definitely just outplayed us. We stopped playing defense, we stopped playing Kentucky defense like we did in the first half, and they just kept driving it down our throats, and we couldn't stop it," Howard said.
Kentucky has now played four SEC games — all against top 15 teams. They beat Arkansas at home and Mississippi State on the road but now have lost at Texas A&M and to South Carolina in the last two games. The Wildcats play again Thursday at Auburn.
"We learned that we can definitely compete with these teams but the margin of error, day-in and day-out, is very small, so we have to make sure that we're on top of things, and we have to make sure that we're on the same page in order to get the wins that we need," Howard said.
Elzy was disappointed with the loss but not the "resilience" of her team.
"We play together. We are tough. We have heart. What I told the players, our margin of error is just so small. So, for three-and-a-half quarters against South Carolina tonight, against A&M, we played high caliber basketball," Elzy said. "However, the small mental lapses cost us, and great teams expose you, so in order for us to take that next level, we have to be able to play for 40 minutes."