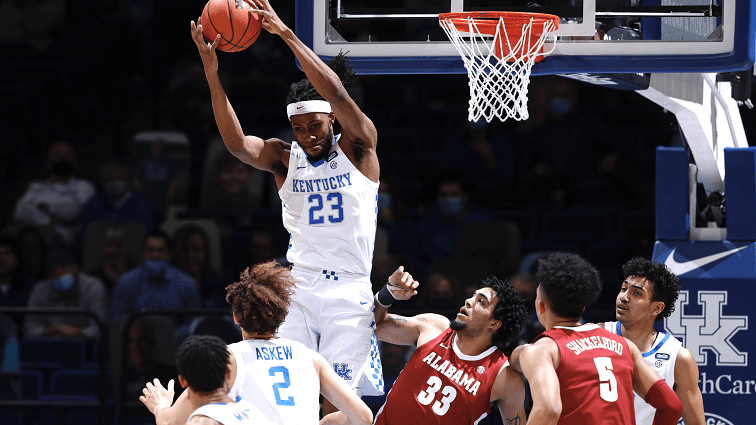 Just when it looked like it might be safe to believe Kentucky could turn around its season after a 1-6 start that thought crumbled. The Cats got beat every way possible in an 86-65 loss to Alabama Tuesday night that ended UK's three-game SEC win streak.
The game was so bad that Kentucky coach John Calipari said he likely would not even watch the game tape — and why should he. He would just see Alabama making uncontested 3-pointers or beating UK to the rim with ease.
"None of our players played well," Calipari said. "I obviously did not coach well. I will find five guys who will fight and that's how we will play. We got beat every which way but loose."
Kentucky did.
Alabama was 14 of 30 from 3-point range and had 10 3's in the first half. Alabama got to the rim almost at will. The Crimson Tide converted 19 UK turnovers into 29 points and by not allowing UK the same easy looks it had, Alabama held UK to 21 of 60 (35 percent) shooting overall.
"It was a butt whipping for sure," UK freshman Dontaie Allen, who had all eight of his points the first half, said.
Kentucky was down 23-22 after an Allen 3-pointer when it collapsed and had what has been an almost every game scoring drought. Alabama went on a 10-0 run when UK missed seven straight shots. Alabama ended the half on a 19-8 run as UK missed 12 of its final 14 shots.
If that wasn't enough, Alabama started the second half with easy scores on its first three possessions and Kentucky never had an answer.
"We reverted," Calipari said in a major understatement. "I am not even sure I will watch this tape. This league is not going to get any easier. People are playing the way they are."
What Alabama did was just spread the court and pick apart UK's defense and then used its physical play on defense to keep the Cats from getting any offensive flow.
"We didn't show up today. We didn't execute today," point guard Devin Askew, who had 12 points and two assists, said. "We just didn't play to our best."
ESPN analyst Dick Vitale had trouble believing how bad the Kentucky defense was during the game.
"Kentucky has got to go back to the classroom and work on the game of basketball fundamentals on defense," Vitale said late in the game. "They players have to buy into it (what the coaches are teaching) and believe. This is a disappointing step.
"They are going to shock some people like they did against Florida (in an 18-point win Saturday). Then they will be mediocre. It's going to be up and down all season."
Calipari didn't play freshman Lance Ware, UK's most physical player. He admitted maybe he should have because he knows Ware would "fight and battle" and other players were not.
"Did you expect us to play this way? I was giving guys a chance to play through it and wake up," Calipari said. "I am looking for five fighters, battlers who will come in and play confident. You cannot play confident if you are getting hit in the head. If you are taking all the shots (from an opponent), you can't be confident. We got pushed around and shoved around."
Calipari had no more to add and really there was no more to add. Kentucky reverted to mid-December UK and now you wonder if the three-game win streak was a fluke against so-so competition or if this was just a game to throw out and UK will bounce back.