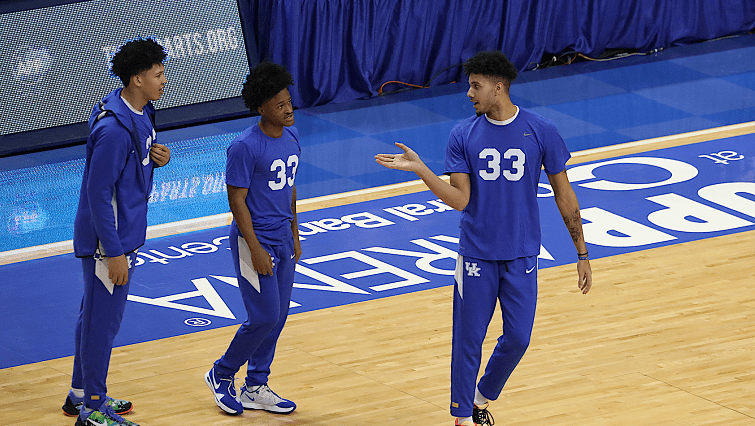 Kentucky players wore No. 33 before Tuesday's game in memory of former UK walk-on Ben Jordan. (Vicky Graff Photo)
Learning about the death of former Kentucky basketball walk-on Ben Jordan on Tuesday morning led to a "rough, emotional" day for UK coach John Calipari that didn't end any better when his team lost 85-65 to Alabama. Jordan came to UK on a baseball scholarship but joined the basketball team last season when Calipari needed another big for practice play. The 6-9 Jordan was both a baseball and basketball standout at West Carter High school.
"We've got four or five (team members) that will go to the viewing tomorrow that were friends, knew they could count on Ben," Calipari said after Tuesday's game. "Ben was one of the nicest. Ben came in with one thing, I need you to help Nick (Richards). I need you to be physical.
"When I went to put him in games, he begged the coaches not to put him in. Tell Coach not to put me in. This kid was only here to help the team. He had a great smile and a great way about him. He was a little bit of a prankster."
Redshirt freshman Dontaie Allen was Jordan's teammate last season. He said it was "pretty emotional" for players who knew Jordan when they learned about his passing at age 22.
"The (new) players, at first, didn't know because they didn't know him, but since then it's been pretty emotional. Everybody was trying to get together and just uplift one another," Allen said.
Calipari said the players who did not know Jordan could tell how his death impacted those who knew him.
"It was an emotional morning. It was emotional for me. I didn't know it until the morning. I just feel for his parents. I feel for his sister. I mean, it's just a bad deal all the way around. I'm not worried about it having an effect on my team today. This is a basketball game," Calipari said.
"That family, man. I mean, I talked to (my son) Brad (Calipari). You try, doing the best you can, absolutely. Sometimes there's things that will work against you. But I wanted Brad to know, you've done everything to put yourself in a position. If it doesn't all work out, doesn't mean you failed. You use all that stuff and put it to good use.
"That's what the great game of basketball is about, what you learn about yourself, what you learn about being a team, how you sacrifice, how you give up for each other."