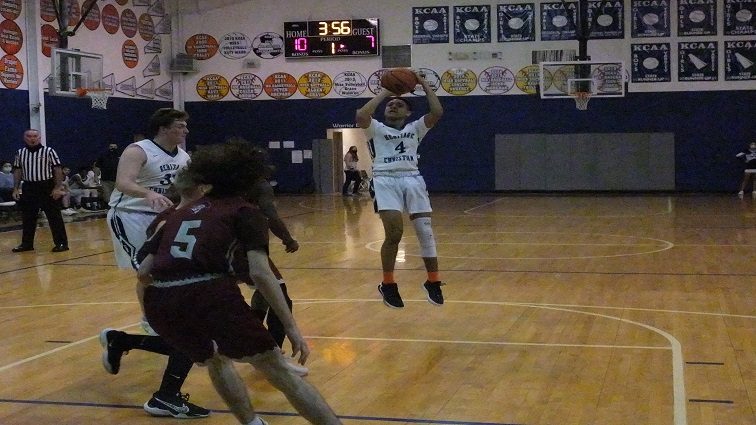 With a 17-point, November win over Clarksville Christian already under their belt, the Heritage Christian Academy Warriors looked to be on their way to another blowout win Tuesday night, but after building an early lead HCA needed a buzzer-beating 3 by Matt Wills to knock off the Centurions 56-55.
The Warriors used hot shooting and a swarming defense to jump out to an 8-0 advantage, with Triston Folz chipping in 5 points.  The Centurions answered with 5-straight points before HCA closed the quarter on a 16-4 run, capped by a Wills 3-pointer, to lead 24-10.
However, the Warriors went cold in the second and only managed 4 points, allowing Clarksville Christian to shave 6 points off the lead.  Xzayvier Ford-Smith knocked down a 3 with :27 left to pull the Centurions within 7 at 28-21 at the break.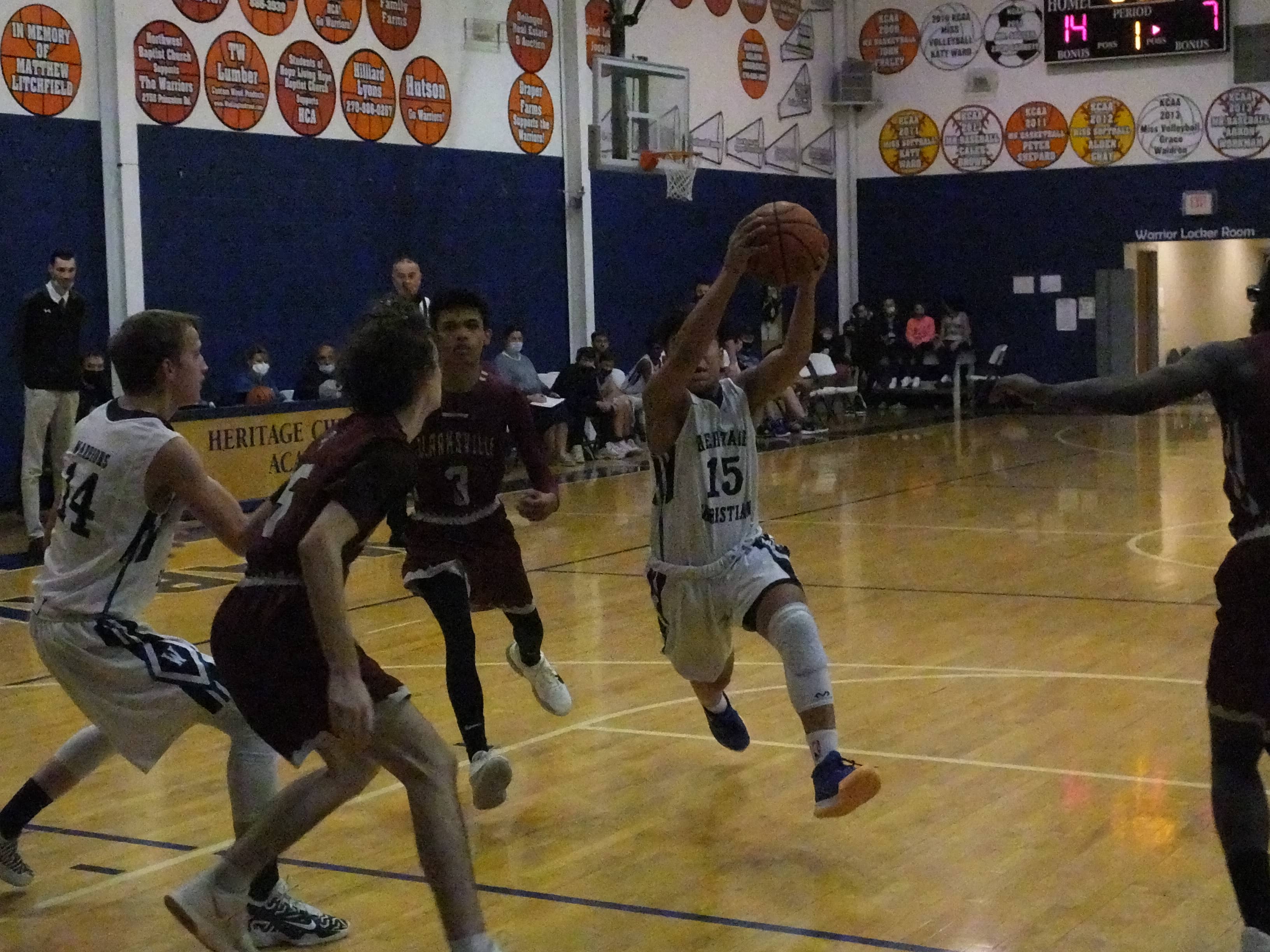 HCA opened on a 9-2 spurt to build a 14-point cushion after Carlos Robles put back his own miss with 4:00 left in the quarter.  With just over a minute left in the third, an and-1 by Clarksville's Cyler Middleton made it 40-33, but David Crunk drew a foul on a 3-point attempt at the buzzer and converted all three free throws to restore the Warriors' double-digit lead.
It was Clarksville's turn to open the quarter with a spurt, outscoring the Warriors 13-2 to pull in front 46-45 after Seth Kones' third 3-pointer of the night.  Wills scored on a layup and a jumper and HCA nosed ahead by 5, but the Centurions were back within 1 after Ford-Smith scored on a drive with :40 to play.
HCA missed the front end of a 1 and 1, and Clarksville's Ryan Bowles made them pay with a corner 3 to give the Centurions their only 2-point lead of the night with :19 left.  Out of a timeout, the Warriors worked the ball around until Trenton Hayes drove under the basket and found Wills on the wing.  Wills didn't hesitate, stepping into the shot and burying the game-winning 3-pointer as time expired.
Clarksville Christian          10    11    12    22 — 55
Heritage Christian             24     4    15    13 — 56 
Clarksville Christian — Kones 13, Ford-Smith 12, Williams 11, Bowles 10, Middleton 5, Rodenhaper 2, Prather 2
Heritage Christian — Wills 21, Robles 12, Powell 9, Folz 7, Crunk 3, Hayes 2, Gibson 2