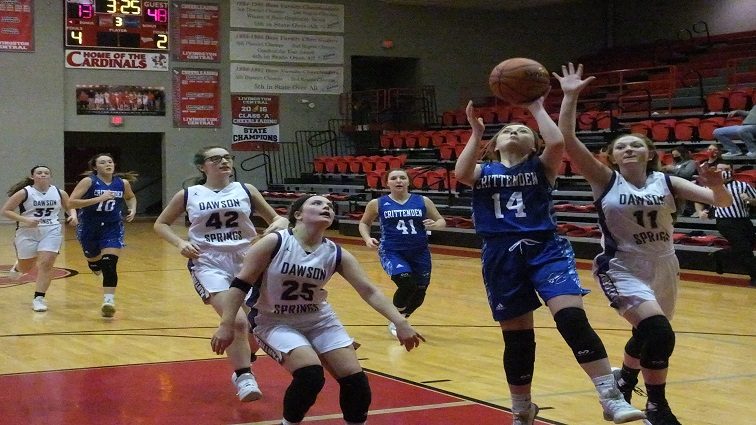 The Crittenden County girls' basketball team got almost all the offense it would need in the first quarter of Thursday's 2nd Region All "A" semifinal, holding Dawson Springs to single-digit scoring in each of the first two quarters on the way to a 54-27 victory.
The Lady Rockets were leading 7-0 before Dawson Springs scored its first points on an Abby Ward layup, and Crittenden closed the first quarter on a 15-4 run to lead 22-6.  Taylor Guess got off to a hot start with 11 points to pace the Lady Rockets.
Brylee Conyer hit one of two free throws midway through the second quarter to stretch the Crittenden lead to 29-9, and the Lady Rockets ended the half on an 8-0 spurt, capped by a Chandler Moss jumper, to take a 37-9 advantage into the halftime break.
A Guess layup with 5:40 left in the third triggered the running clock at 46-11, but Ward and Gracie Harper combined for 8 points to help Dawson Springs outscore the Lady Rockets 12-11 in the frame.
Neither team did much scoring over the final eight minutes, and Crittenden eased to a 54-27 win to move on to Saturday's championship game.  They didn't know it at the time, but the Lady Rockets will play defending champion Lyon County after the Lady Lyons knocked off Caldwell County in the second semifinal.
Dawson Springs          6     3    12     6 — 27
Crittenden County    22    15    11     6 — 54
Dawson Springs (0-2) — Ward 10, Oldham 6, Harper 6, Huddleston 2, Back 2, Drennan 1
Crittenden County (5-0) — Moss 16, Guess 15, Conyer 7, Hatfield 6, Easley 4, Smith 2, Duncan 2, Perryman 2