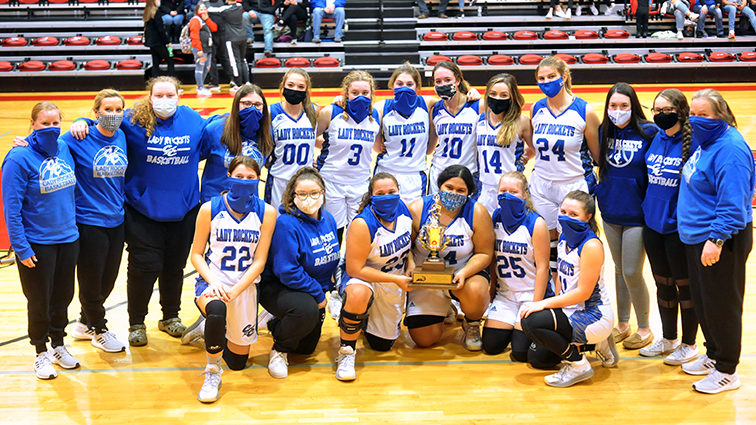 The Crittenden County Lady Rockets are headed to the state All A Classic basketball tournament for the seventh time.
Nahla Woodward scored 26 points and grabbed 10 rebounds as Crittenden turned back Lyon County 41-35 Saturday afternoon in the 2nd Region All A championship game at Livingston Central.
Woodward scored 14 of her game-high point total in the fourth quarter — including a key 3-pointer — as the Lady Rockets pulled ahead late in the contest.
Lyon (3-2) led 13-12 at halftime, The contest was knotted 23-23 through three quarters.
The Lady Lyons, who entered the matchup on a three-game winning streak, led through the early stages of the final frame. Lyon was still up 28-27 midway through the stanza.
But Woodward nailed a 3 from the right corner to push the Lady Rockets in front 30-28.
Crittenden never trailed again as the Lady Rockets kept their perfect record intact this season at 6-0.
Crittenden's biggest lead of the night came at 38-31 inside the final minute of the contest.
However, Lyon tried one final push. A long rebound on a missed free throw kicked out to Lilly Perry, who connected from 17 feet to get Lyon within 38-35 with still 18 seconds remaining.
But Crittenden made three of its four free throw attempts the rest of the way to hang on.
The Lady Rockets also got nine points from Chandler Moss.
Lyon was led by Rose Smith, who finished with 14 points and seven rebounds, and Calista Collins, who had a double-double with 10 points and 14 boards.
Because of COVID-19, the state All A Classic has been pushed back to Feb. 16-21 this year.
The event will be played at Eastern Kentucky University in Richmond.
Crittenden will take on 9th Region champion Newport Central Catholic in a first round contest.
Lyon County                 7   6   10   12 — 35
Crittenden County    8   4   11   18 — 41
Lyon County (3-2)—Rose Smith 14, Calista Collins 10, Lilly Perry 4, Kenttavia Matthews 3, Gracen Wynn 3, Ella Defew 1.
Crittenden County (6-0)—Nahla Woodward 26, Chandler Moss 9, Taylor Guess 6.