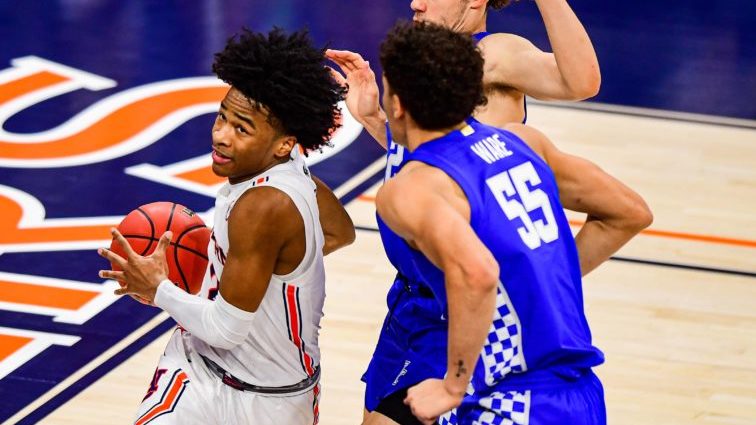 What was John Calipari's message to his team after Saturday's disappointing 66-59 loss at Auburn?
"Toughness. We are supposed to be the tougher team every time and today we weren't," UK sophomore forward Jacob Toppin said after the game. "We did play with effort but not enough toughness.
"In the first half, they had 12 offensive rebounds, which is unacceptable for any team. We need to find a way to get tougher and play with more grit."
Kentucky's shooting woes get most of the attention for the team's 4-8 start, including losses in the last two SEC games to Alabama and Auburn. But UK's lack of toughness/physical play is an issue, too.
"What I like about Lance (Ware) is that he will fight," Calipari said.
Ware will. Problem is he's not one of Calipari's top eight players and he's not going to play extensive minutes.
Keion Brooks is another player who plays with physicalness and effort — but he's been back for just three games now after missing the first nine games.
"The toughness this team needs to play with … First half they had 10 or 12 offensive rebounds. What?! We should be a better offensive team," Calipari said after Saturday's loss. "It got rough and we should be able to battle back."
But Kentucky cannot. Olivier Sarr can't post strong consistently. Isaiah Jackson can block shots but he's not going to outmuscle anyone.
"When you're trying to throw to the post and that guy isn't catching it, that becomes tough. Olivier has got to start dominating games. I'm telling you, stop worrying about offense and go rebound," Calipari said.
Guards? Kentucky does not have a physical guard, either.
"Drive to get fouled instead of flipping and avoiding," Calipari said referring to the way Brandon Boston sometimes seems to avoid contact.
I think one reason Kentucky can't stop teams from getting inside the paint with the ball is is lack of physical play. Opposing guards are either too quick or too strong — or both — for the Cats. Remember as bad as UK's offense was Saturday, the Cats did give up 45 points in the second half and it's hard to win that way.
"The toughness on (opponent's) drives. We said we are going straight up and we are not trying to block any of these drives, we had three guys go like that," Calipari said as he extended his arms in each direction.
The coach is obviously as frustrated as UK fans and seems to have no answers because it's hard to make a case that the Cats are making any significant improvement over the last six weeks.
"There are points in the game where I'm proud of these guys and there are other points in the game that I'm thinking, what in the world are we doing?" Calipari said.
Guess what? Fans are wondering the same thing.