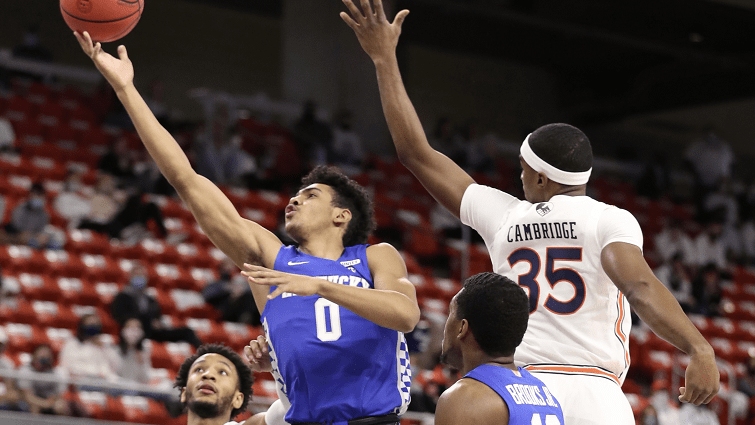 It's not often that John Calipari admits he might not have said something exactly right. But the Kentucky coach knew he messed up after Saturday's loss at Auburn. Calipari was asked why he did not start Dontaie Allen and Jacob Toppin in the second half after they were UK's leading scorers in the first half.
"I want to win every game I coach, but on the other side, I'm not trying to take anyone's heart away," Calipari said.
Many UK fans took that to mean Calipari was more interested in making sure five-star freshman Brandon Boston, who has struggled to make shots and not turn the ball over, needed to play more than lower-rated recruits Allen and Toppin and winning took a back seat to that.
"Let me just start with this. Where we are at right now is unacceptable. None of us are happy. I am not happy. If you know anything about me, I want to win just as much as anyone," Calipari said to start his weekly radio show Monday night with Tom Leach.
"I said some stuff the other night that didn't come off right but I am trying to protect these players. When the words came out they were probably wrong, but I stand by what I meant."
Not sure he can have it that way. You can't say the words were wrong but you stand by what I meant. Either it's more important not to hurt certain players' feelings than others or it is not.
Calipari explained his young players are dealing with normal first-year frustrations along with COVID-19 stress.
"I am (different this year). I am coaching emotion more than I have ever coached in my entire life," Calipari said. "I am being way more protective of these kids and their emotions than ever because that is best for them."
Protective is fine. But what about the "hearts" of the players not getting to play when they are outplaying some players on the court? Doesn't that count for anything?
"I am not trying to take the hearts away for our team but got to get BJ, Devin (Askew), Isaiah (Jackson) playing at a high level," Calipari said.
The coach admitted he didn't want them to slip into a bad place and insisted playing time was not about names and rankings — even if it sure seems and sounds like that.
"I have a strong belief in each of these kids and a strong belief in what this team can still do," Calipari said.
Strong words for a team 4-8 that has not scored over 65 points in any of its losses. The Cats couldn't even beat Auburn when it missed 14 of its first 15 shots and failed to score on 21 of its first 25 possessions.
Calipari noted he had to keep "all these guys" believing in each other and him believing in them while being conscious of all they are going through daily.
"If you have to take a step back for someone else to take a step forward …," Calipari said. "If it were your son and he was struggling would you want me to give him every chance to bust through or would you say just take him out and try somebody else."
But what if it was your son outplaying someone who was getting more chances to play and succeed but not being nearly productive enough? Wouldn't you want the coach to give your son a chance to play more based on what he's accomplished?
Again, not sure admitting some players get more chances than others is the best thing for fan morale right now. Probably not team morale, either.
Calipari used his standard line of "this is not Communism" and how it takes time to figure out how his team needs to play.
"If you know me, you know I want to do everything we can to win," Calipari said. "This program is important to me. I love this program."
So do the many, many fans who are frustrated with the team's play and the coach's explanations for some of what he's done this season. Maybe what he said on his radio show will ease some of that fan anxiety but I still think it is what it is and what Calipari said after the game is simply the coaching perspective he has and always has had.