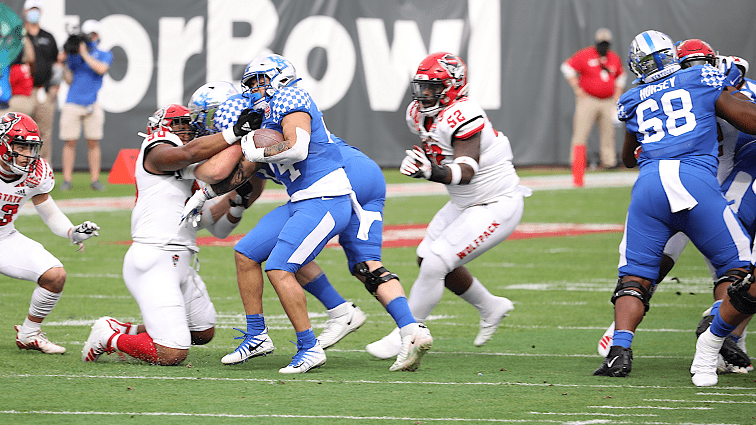 Kenneth Horsey Jr. didn't need to win the 2020 Mayo Clinic Comeback Player of the Year Award to think about John Schlarman, his offensive line coach at Kentucky who passed away in November.
"I think of coach Schlarman all the time. Getting the award did make me feel good for him because —and I told him this before he passed — that if anybody could come back strong from what he was going through it would be him and that inspired me," said Horsey, a starting guard last season. "He was always motivation for me. No matter what I was feeling, I knew what he was going through and his positive energy and motivation always made me feel good."
Schlarman fought cancer for over two years and had a special connection with Horsey, who needed open heart surgery shortly before his graduation. At times there were some doubts if he would even play football again but he persevered and with Schlarman's guidance became a starter in 2020.
"I am not going to lie. It was rough (when Schlarman passed)," Horsey said. "It was great to have a group of experienced linemen in Drake (Jackson), Landon (Young) and Luke (Fortner) to take a big leadership role when coach Schlarman went down
"The really great thing, though, is he coaches us all the same way. It doesn't matter if you were starter or third string, he was going to coach you the best possible way."
Horsey said after Schlarman's death he still felt his presence in the meeting room when Young and Jackson were helping younger teammates study film.
"We were so well coached that we knew what we did wrong as soon as we saw it (on film). You could sit back and say exactly what coach Schlarman would say to you. That's how good a coach and man he was."
Horsey spoke to new UK offensive line coach Eric Wolford on the phone before UK played in the TaxSlayer Gator Bowl and liked both his intensity and passion, qualities Schlarman certainly had.
"He will bring some NFL experience to the team and has been through two (NFL) drafts," Horsey said. "He knows what these NFL coaches and GMs (general managers) are looking for and how to help our offensive line. Obviously any time you can get information on how to be a top offensive linemen in the league, you are going to take it. If he brings that with him, I am all for it."