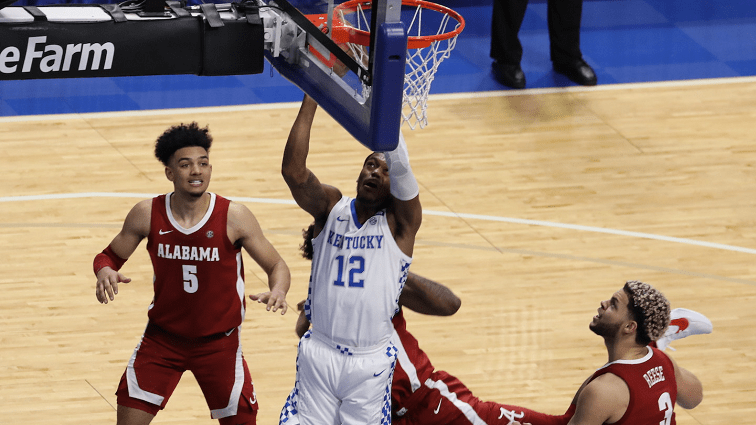 John Calipari wants Kentucky fans to know he's doing everything he can on and off the court to try and figure out how to make his Wildcats better.
"I'm tweaking everything. I'm working out, running, sleeping, getting my rest. I'm in a fighting mood. I'm mad. I'm disappointed. I'm not happy in any way. But, these are our guys, and I'm going to say this to all of you and to our fans: We can't trade them. This is who they are," Calipari said Tuesday.
He's looking at how his highest scoring five players have played together in recent games and how he could help them be better defensively if they played together more. For the five who have been the best together on defense, he's looking for ways to help them offensively.
Calipari noted that during his previous 11 years at UK that the "cream" would always rise over time. However, with no exhibition games and fewer non-conference games, UK has played just 12 games in mid-January and is 4-8.
"Some guys will step up, some guys will take a step back. It's not different. Now, because of our record, it's like, 'Do it now! Do it!' This is basketball. This isn't football where one loss, your season's over. We just got to get this thing right and we've got to go on a run. And the only way we're going to do that is have a team full of guys who are in a great frame of mind," Calipari said.
I think the coach also tried to explain why he may not expand Dontaie Allen's role significantly no matter how much UK needs scoring or how much fans want Allen to play more.
"What none of us want to do is put so much on any of these kids that you hurt the kid. So now a kid that was in a great role or doing great, now you put him in some other role and now you hurt the kid. I don't want to do that either," Calipari said.
My translation: I am not going to start Dontaie Allen but continue to bring him off the bench and I am not giving up on Brandon Boston no matter how bad his statistics might be.
"A kid comes here and three games you decide, well, he can play or not play. I can't do that, and I've done this 35 years. It takes me time. Maybe you (media) can or our fans can. I can't. So, I've got to let it play out a little bit. Do I wish kids would jump up more? Yeah, I do. But, they're not robots, they're not computers. The cream also rises. It always does here. And sometimes it affects guys where, 'OK, I'm not, I can't,' you know. But in most cases, they know we did this, everybody had an opportunity to show," Calipari said Tuesday.
Calipari said despite what some fans think, he has one objective — win games.
"You think I'm going to play somebody because I like them more? You know what I told guys when they come to see me? 'I already like you so don't say stuff in here to try to make me like you more. I already like you. Alright, let's just be real,'" Calipari said.
"The other thing is, 'Listen, I'll have you come to my house. I love you. You can stay overnight. I'll make you breakfast. Doesn't mean you're going to play more or less. That's now what this is.' And it's not one child over another child."