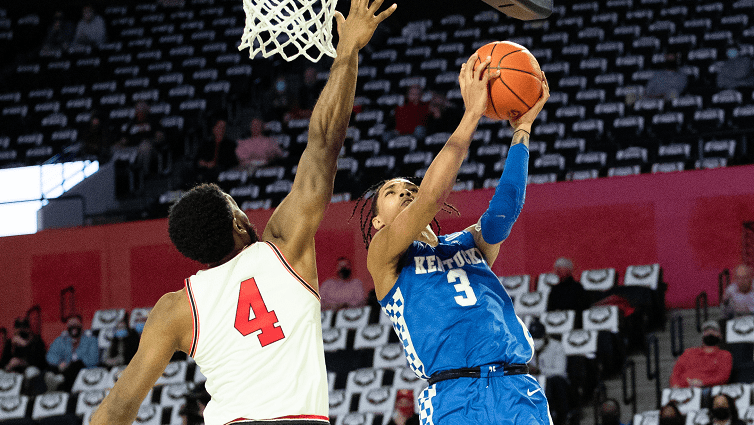 With three seconds to play and clinging to a one-point lead, how did Kentucky allow Georgia to inbounds the ball under its own basket and get a game-winning layup? Why not try a zone defense to clog the middle? Why not put more pressure on the player inbounding the ball?
Vaughtsviews.com contributor Keith Peel, a former coach, broke down exactly how Georgia was able to score the game-winning basket that may well have all put an end to any hopes UK had of a miraculous turnaround this season.
"Last play Cal was out coached. (Georgia coach Tom) Crean ran a stack. No switch on the screen by (Jacob) Toppin. (Isaiah) Jackson lost on screen. (Brandon) Boston doesn't rotate to cut off the driver. No one got on the floor when the Georgia player dropped the ball. (Keion) Brooks was too late from the help side. Poor fundamentals on defense," Peel said.
Those breakdowns enabled Georgia to break a 14-game losing streak to Kentucky in what is turning out to be a historic season for all the wrong reasons for Kentucky.
Kentucky coach John Calipari said he was "discouraged" after the game. My guess it that his frustration level does not match that most Kentucky fans have.
"What I just saw, the way we finished the game, the shot selection at the end, the free throws, the turnover. (We) just throw the ball to them for layups. We gave them (25) points on turnovers, throwing them the ball. I'm discouraged," Calipari said.
To make it even more discouraging, Kentucky got a solid game from Brandon Boston — maybe his best overall game of the year. He lost his starting spot but had 18 points on 9-for-16 shooting along with seven rebounds and one assist. He also had just one turnover — four teammates had two or more.
The rest of the guard play, not so good. Davion Mintz had four points on 2-for-7 shooting along with two rebounds, two assists and two turnovers. Devin Askew had three points on 0-for-5 shooting from the field along with five rebounds, five assists and five turnovers in 30 minutes. Both guards again had trouble keeping players from driving into the lane.
"Our guard play was awful," Calipari said. "B.J. showed some life. The rest of the guard play was not good at all. I mean, you try to open up the court a little bit, can't get by anybody (and) end up taking a bad shot."
All that is just the trend, or new normal, for Kentucky basketball. Did you hear one of the SEC Network announcers say ugly play "is not unchartered territory" for the Cats this season.
National college basketball writer and Fox Sports radio host Aaron Torres, didn't mince words about Kentucky.
"This might be, overall, Kentucky's worst overall performance this season. Which really is saying something," Torres posted on Twitter.
As bad as this season has been, yes that is saying something.
Wait. There's more.
"And, any faint, miniscule, microscopic notion we had of Kentucky making the NCAA Tournament just went out the door with that loss to Georgia," Torres added.
Sure did. Calipari and his players can talk all they want about the talent the team has and that it is going to get better. It might get better, but not nearly so much better that UK can go to the NCAA. If I am not mistaken, it takes a winning record to get a NIT bid.
If my math is correct, UK would have to go 10-3 the rest of the way to have a winning record when the regular season ends. If you think that can happen, let me know what you are drinking today because it must be strong.
No, this team could still have some special moments, but that won't ease the pain of this disappointing season.