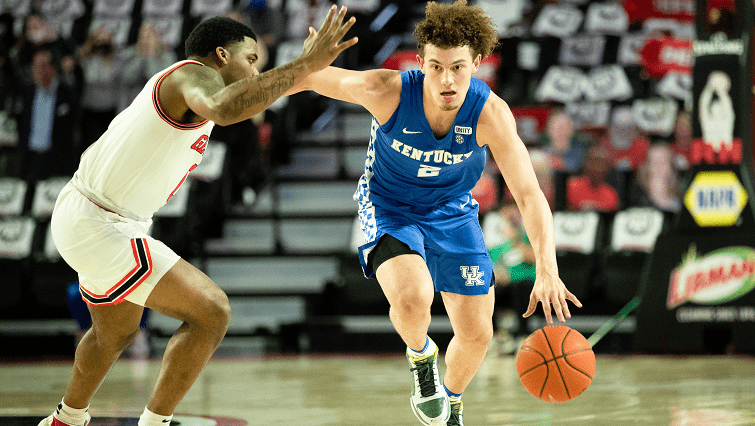 Just when you think it cannot get any worse for Kentucky, it did. Georgia scored the game's final seven points, including a layup off an out of bounds play just before the buzzer, to beat Kentucky 63-62.
Kentucky is now 4-9 and headed downhill in record time after a three-game win streak to start SEC play had actually given some hope that the Cats might turn the season around. This loss erases that belief.
Kentucky has lost five games this season when allowing 66 points or less. Think about that. Kentucky has not scored 66 points in any of its nine losses.
How can Kentucky coach John Calipari keep his players from throwing in the towel?
"I need someone to talk to me because I am discouraged," Calipari admitted.
This time I think the UK coach was being serious. How could he not be discouraged?
Georgia had 25 points off 17 UK turnovers. For a team that cannot score, giving away 25 points is God-awful.
Georgia had 17 points in nine minutes to start the second half. Eight came in transition off turnovers by Dontaie Allen, Olivier Sarr, Devin Askew and Brandon Boston. Two came on a follow shot when Isaiah Jackson was slow recovering after blocking a shot. Two came on an offensive goaltend against Keion Brooks. That's 12 really easy points off UK mistakes.
Kentucky has turned the ball over 17 or more times in six games this season, including three straight. The Cats have lost five of those six games. Seems like a trend that is fairly easy to understand but the Cats obviously cannot grasp that.
"Losing that like that is tough," Brooks, who had 12 points despite playing only 15 minutes due to foul trouble, said. "We had a pretty good lead. We basically gave the game away, which is tough. We have got to work on not beating ourselves. This loss sucked by we have got another game on Saturday."
But another game is not necessarily good news. UK will host LSU — and remember the Cats have already lost at home to Richmond, Notre Dame and Alabama. Next week UK will play at Alabama and host Texas, two ranked teams who are both playing well.
It's hard to imagine Kentucky finishing the game any more poorly than it did. UP 62-56, the Cats gave up a 3-point goal followed by an Askew turnover — his fifth of the game. Kentucky got a reprieve when Alabama missed and Boston — who carried UK's offense with 18 points and seven rebounds — got the board. Calipari called timeout with 1:01 to play. The result — Boston missed a tough, off-balanced shot and Alabama raced past the Cats to get an easy layup.
The Crimson Tide fouled Askew with 23.5 seconds left. He is UK's best foul shooter. Naturally, he missed. Alabama got the ball inside but Jackson blocked the shot out of bounds with three seconds to go. The Bulldogs had the ball under the basket and ran a play where P.J. Horne muscled by UK defenders to score with :01 left.
"They are not a physical, strong team," SEC Network analyst Jimmy Dykes said. "That was a physical play at the end (by Horne). Kentucky was not physical enough to keep the guy from diving to the rim."
Dykes also correctly noted that "time and time again Georgia tried to give the game away" but Kentucky is not good enough offensively to take a win it was practically handed in a game it desperately needed to win.
"I know we are not as bad as we played," Calipari said.
Guess what? Kentucky is that bad. The number don't lie and UK's numbers are horrible.
"We better start playing better. It ain't getting any easier," Calipari said. "Every game here on in is really hard. We better step on the gas."
Sounds good but 13 games into the season, it's obvious doing that is more than really hard for this team. It looks impossible.