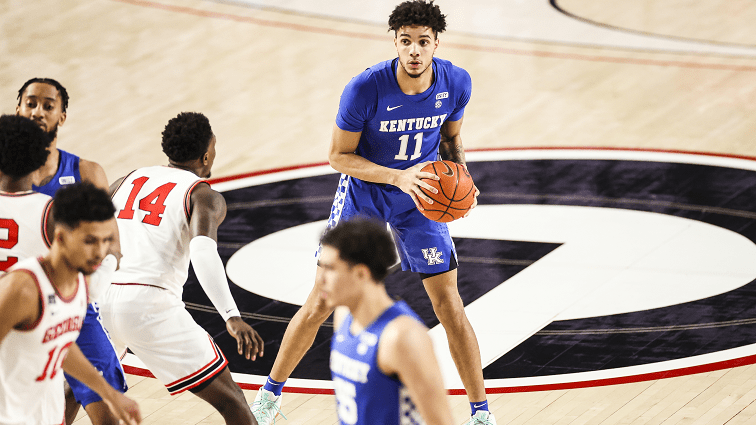 Apparently the only reason that Dontaie Allen got to start against Georgia was pressure from Kentucky fans to start him — so coach John Calipari did. Or at least that's what he implied after Wednesday's 63-62 loss when Allen scored three points, went 1-for-3 from the field and missed two 3-pointers and a free throw, and got three rebounds in 22 minutes. He also had two turnovers.
"I'm telling guys that if they don't shoot it, I'm taking them out. Again, we had guys in roles that they were comfortable with. Now, you put them in other roles and you see they're not as comfortable," Calipari said.
Translation: Calipari knew Allen was better coming off the bench than he would be starting.
"This is why I always say I know my team. I'm with them every day. I know when they're going to play their best when they're in certain roles. When you start putting in other guys and they're doing stuff …," Calipari said.
So if he knew his team best and knew Allen shouldn't start, why did he. My guess is if Allen had gone for 25 points and UK had won, Calipari might have said he knew he was ready to roll and that's why he started him.
Of course, Calipari admitted that benching BJ Boston so Allen could start "woke up" Boston. He had 18 points on 9-for-16 shooting, seven rebounds and one assist in a team-high 32 minutes.
"One of the other guards was so bad, I had to start him in the second half," Calipari said.
So apparently Boston's strong first-half play would not have earned him a start the second half just like Allen's play at Auburn the first half didn't earn him a second-half start. Confused? Me, too.
Georgia coach Tom Crean had no trouble explaining how important his team felt stopping Allen was.
"I think one of the biggest things was how we defended the 3. For them to go 1-for-13 (from 3) knowing that Dontaie Allen was 15-for-30 coming into the game in the league, and really (Davion) Mintz and (Devin) Askew a little bit, but Allen for sure with the 3-point shooting was a really a key and a big thing for us," Crean said. "Keion Brooks hadn't taken a 3 or made a 3 this year until tonight."
Translation: Georgia could live with an unexpected 3 from Brooks if it meant keeping Allen (0-for-2) from going off from 3-point range. Askew and Mintz were a combined 0-for-5 from 3. Boston was 0-for-3.
So whatever role Calipari thinks is best for Allen, he still has to know Allen is the only 3-point threat UK really has. For a team that cannot score 65 points most games, UK fans and the head coach ought to be able to agree that he needs to be in the game and encourage him rather than nitpicking his every move.