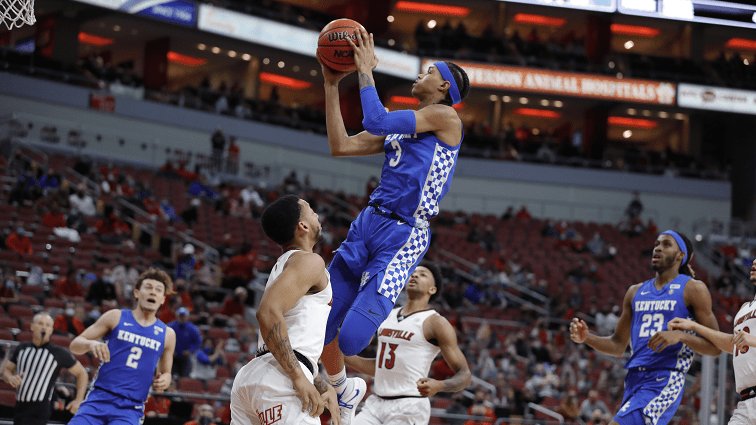 Give freshman guard Brandon Boston credit for admitting that not starting last game against Georgia helped him. Even though UK lost, he still scored 18 points on 9-for-16 shooting and pulled off seven rebounds. He had just one turnover in 32 minutes.
"Coming off the bench, I feel like I could see the game before it happens. Just watching my team go out there and start the game and just cheering them on and bringing the energy when I got on the court," Boston said Friday. "But it really didn't affect me coming off the bench or starting. I still bring the same energy and same confidence with me."
He figures to be back in the starting lineup Saturday night when UK hosts LSU, especially after Dontaie Allen told coach John Calipari Thursday he was more comfortable coming off the bench than he was starting like he did at Georgia.
"He's a great kid with extreme talent. He's a young guy who has had a rough start, but like I said, his story is still being written," Kentucky assistant coach Joel Justus said Friday when asked about Boston. "There's another few lines or chapter that gets to be written today. He's a young guy that is figuring it out.
"It's why you go to college. It's why you come to Kentucky. You come to be challenged. You come here to work. You come here to test yourself against elite competition, to be coached by a staff of people that are going to spend time with you, that are going to develop relationships with you, that are going to be with you when things are great, when things are not great. And BJ is taking full advantage of that."
Justus said Boston is doing everything he can to put himself in a "better place" mentally and his practices last week showed that.
"I don't think anybody was surprised that he played as well as he did at Georgia. So, the key now is to continue to work towards that," Justus said.
Boston has been doing that. He was in the gym with teammate Cam'Ron Fletcher for about 2 1/2 hours before leaving at 2:30 a.m. before UK played Georgia.
"Basketball is really all that's on my mind, so it's really the only thing that helps me escape reality. So, I just went in there at midnight. I left around 2:30, just putting up shots," Boston said.
Boston admits the Georgia game helped his confidence but also humbly noted he could have done more to help UK win.
"That's the main goal is obviously to win the game," Boston said. "I wouldn't say we're discouraged. Obviously, everybody would be mad with this kind of record. We should be better, but I feel like we've been putting the hard work in. We've just got to keep our heads high and keep going."
Boston has been under intense scrutiny and often criticized this year. He was a top 10 national recruit and even though he leads UK in scoring, his shooting has not been good and he's made too many physical and mental errors.
"This season has been a rough season, a rough start. Not really what we wanted, but it's the cards we've been dealt. We're working hard every day. Cal is on us every day just trying to teach us to be better and a better group of men and a better team. We've just got to come together and fight every game now," he said.
He won't deny the season has been more difficult than he imagined.
"I've been struggling, but I've just been staying positive and staying in the gym working my tail off and just keeping up good spirits knowing that I've been having a rough start. But everything is going to change," he said.
He said he was surprised at having to fight for 40 minutes and competing hard every minute. He said Calipari has tried to help him create new and better habits.
"Just play the game the right way. He's just been trying to help me do that," Boston said.