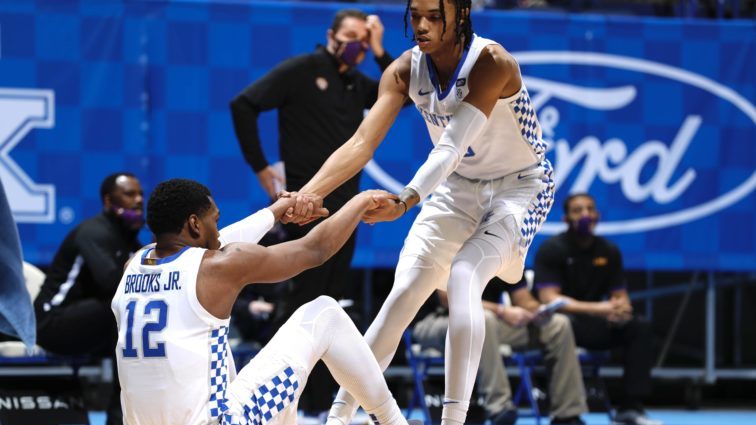 Having Brandon Boston in what he calls a "good place" helped put Kentucky in a much better place Saturday night. Boston turned in his second straight strong game to help Kentucky beat LSU 82-69 and end a three-game SEC losing streak. Boston had 18 points, six rebounds, three assists, one block, one steal and no turnovers in 34 minutes.
"I am in a good place right now but still have a lot of work to do. Just stay in the gym and stay humble," Boston said.
Staying in the gym is something he should do. Staying humble is something he has to do because UK is still 5-9 and he's still shooting under 40 percent from the field. But he's getting better — he went 2-for-7 on 3's but that's better than 0-for-7 — and if he continues to do that, UK at least has some hope for the rest of the year.
"I love this game. I have great confidence in my work ethic," Boston said. "A lot of people have jumped off the boat but if our team is together that's all that matters."
Kentucky scored a season high 82 points, including 49 the first half when the Cats had 13 assists on 17 field goals, hit six 3-pointers and turned the ball over only four times. The second half UK's offense reverted at times with just two assists, one 3-pointer and five turnovers.
However, when Kentucky needed a big play, Boston provided it.
— He converted a three-point play after a drive into the lane after LSU cut the lead to 51-44.
— He hit a 3-pointer — a rarity for him this season — after a 13-5 LSU run had trimmed the lead to 56-51.
— Kentucky went almost four minutes without a field goal before Boston got inside to score to push the lead to 61-51.
— After a Keion Brooks' miss, Boston tipped in the follow shot.
Teammate Lance Ware said the Cats never lost faith in Boston when he was struggling to score and make plays.
"I have just seen him working his butt off. Every time I go to the gym I see him in the gym," Ware said. "His confidence … he never shows you that he was sad. He kept fighting and showed you he was going to push through. These last few games he has been getting better."
Boston was 7-for-17 from the field and Calipari was okay with all but one shot — a "flipsie" he missed the first half. Calipari has been trying to break the habit of him shooting flip shots near the basket to avoid contact and almost never making one.
"I went crazy," Calipari said. "I told him, 'You are not going back to that guy. That guy has left the building.'"
Calipari told him when he sticks to downhill runners and helps create the contact he looks like "one of the best players in the country" and he was not having flip shots when he had Dontaie Allen open for a 3-pointer if he had just passed the ball.
Boston did the only thing he could do — or should have done — when Calipari got on him.
"He lost it. I just listened to him," Boston said.
Calipari was also pleased that his team had just nine turnovers, including two shot clock violations that he said he did not mind because that was better than poor shots that led to run out baskets for LSU.
He said the turnovers were down "because everybody was playing for each other instead of themselves" and not trying to make what he calls hero plays and then turning the ball over.
"When you are playing for you instead of us, there are going to be turnovers," Calipari said. "I've had enough of these turnovers for no reason."